Karnataka: 17 injured as electric shock triggers stampede at Hassan's Hasanamba temple
An electric shock near Hasanamba temple caused panic in the Dharma Darshan queue, resulting in minor injuries and a chaotic stampede. The incident, sparked by an LED screen accident, prompted distress among devotees, delaying temple proceedings but leading to no major calamity.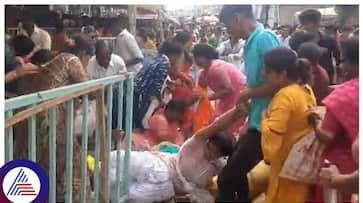 An unsettling incident unfolded near Hasanamba temple, leading to a chaotic scene resulting in minor reported injuries due to an electric shock and subsequent stampede. The episode saw a video circulating widely, showing distressed women in the midst of the chaos near the Dharma Darshan queue.
The incident occurred when individuals encountered an electric shock and some collapsed, causing a chain reaction leading to panic. Women in the queue rushed, falling over one another as locals assisted some affected individuals.

Karnataka: Farmers offering land for Ankola airport to receive alternative land says Minister Mankal Vaidya
The cause of the chaos stemmed from an accident involving an LED screen installation, where a wire tore within an iron barricade, resulting in an electric shock that startled devotees. The immediate spread of this news prompted a horrified response from the gathering, compelling people, including the elderly, to flee the site in an attempt to safeguard their lives.

Bengaluru traffic jam holds Ferraris hostage: Thousands of HP powerless (WATCH)
Despite the chaos, no major calamity occurred. However, reports indicated that eight individuals fell ill due to the shock. The temple usually witnesses a significant number of visitors, yet the recent event led to disorder and a delay in the darshan, causing unease among devotees.
The commotion transpired near the Dharma Darshan queue at Santepet in Hassan. The temple resumed the darshan after the distressing incident.
Last Updated Nov 10, 2023, 3:47 PM IST