Karnataka: Farmers offering land for Ankola airport to receive alternative land says Minister Mankal Vaidya
Fisheries Minister Mankal Vaidya announces airport construction plans in Ankola, Uttara Kannada. Land contributors to receive alternative land. Ongoing land acquisition with focus on local convenience. Meeting with MLAs discusses overall development, fisheries initiatives, and port projects in Karwar and Mangalore with a 1,000 crore budget. World Fisheries Day celebrations and efforts for fishermen are outlined.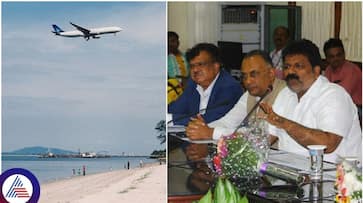 There have been plans for the construction of an airport in Ankola, facilitating access to the coastal Uttara Kannada district, are underway. Fisheries Minister Mankal Vaidya announced that individuals contributing land for the airport will be provided with alternative land as compensation.
Addressing the media after a discussion with MLAs from Uttara Kannada and Udupi districts at Vidhansauda on Thursday, Minister Vaidya confirmed that the airport construction would proceed in Ankola. The ongoing process of land acquisition for the project is in motion, with additional space being sought. Minister Vaidya emphasized the commitment to taking all necessary measures for the airport's construction, ensuring the local community's convenience.

Karnataka Election 2023: PM Modi chants Jai Bajrang Bali' in all campaign meetings to counter Congress
A meeting was convened with MLAs from Uttara Kannada, Udupi, and Mangalore, focusing on the Fisheries Department's liaison and port-related matters. Minister Vaidya revealed that the discussions yielded numerous suggestions, and the authorities are implementing well-planned actions for overall development, including tourism.
Addressing challenges faced by fishermen, Minister Vaidya highlighted the government's initiative to supply diesel to fishermen, overcoming previous issues with kerosene. The government purchased white kerosene for a period of 10 months, providing it to fishermen at a subsidized rate of 35 rupees. This move, unprecedented in the country, involved supplying 200 liters initially, with an additional 300 liters of kerosene ready for distribution in the coming days.

Karnataka: Controversy arises over use of Hindi language on signboard at newly-inaugurated Shivamogga airport
Minister Vaidya shared details about the government's efforts to celebrate World Fisheries Day on November 21 in Bangalore. On this occasion, fish worth 8 lakhs were sold to fishermen, accompanied by the distribution of carts. Out of the 300 carts procured, 150 were allocated to Bangalore, with a government security fund of 2 lakhs as a deposit, to be retained by the beneficiaries. Additionally, a deposit of 1.5 lakhs was specified for SC and ST individuals, complemented by various grants, including Pati Dhoni.
In a strategic move, the government has decided to establish ports in Karwar and Mangalore, allocating a budget of 1,000 crores. The Minister encouraged discussions to determine the preferred type of port, considering market dynamics and tourism potential. He stressed the need to promptly prepare a blueprint for this initiative. Furthermore, the government has identified 13 islands in three districts, contemplating development through the Public-Private Partnership (PPP) model to boost tourism. These key points emerged from the discussions during the recent meeting, as shared by Minister Mankal Vaidya.
Last Updated Nov 9, 2023, 8:17 PM IST