BREAKING: Accident claims lives of 13 people, including child, on NH44 near Chikkaballapura
A devastating road accident on National Highway 44 in Chikkaballapur claimed 13 lives, involving a collision between a Tata Sumo and a stationary cement bulker. Dense fog limited visibility, leading to the collision, with 12 fatalities on the scene and the potential for the death toll to rise. An investigation is underway, and concerns about highway safety have been raised.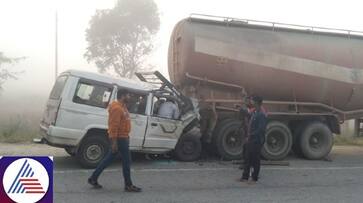 A devastating road accident occurred this morning at Chitravati on National Highway 44, on the outskirts of Chikkaballapur. The accident claimed the lives of 13 people, including a child, as a Tata Sumo collided with a stationary cement bulker. The accident transpired when a Tata Sumo collided with a stationary cement bulker. Among the deceased, there were 8 men, 4 women, and a child, as per the reports.
The details regarding the identity of all the deceased are yet to be ascertained, and it remains unclear whether all the victims were occupants of the Tata Sumo. The accident transpired as the Tata Sumo was en route from Andhra Pradesh towards Bengaluru.

Bengaluru: Deadly accident claims biker's life, seriously injures pedestrian at Nelamangala (WATCH)
The crash took place within the jurisdiction of the Chikkaballapur traffic police station. The Tata Sumo, which was heading to Chikkaballapur from Bagepally, encountered thick fog, severely limiting the driver's visibility. Tragically, it collided with a lorry parked on the side of the road.
The impact of the collision left the Tata Sumo completely crushed, leading to the loss of 12 lives on the spot. Additionally, it is feared that the death toll may rise as the situation unfolds.
The dense fog is suspected to be a contributing factor in the accident. It has come to light that a total of 12 people were travelling in the ill-fated Tata Sumo at the time of the incident. Five individuals lost their lives instantly, while seven more succumbed to their injuries while en route to the hospital.

Krishnagiri: Driver killed in unfortunate accident while transporting Dasara elephant; check details
All the deceased have been identified as residents of Gorantla town in Andhra Pradesh. Furthermore, four individuals sustained serious injuries in the accident and have been transferred to the Chikkaballapur District Hospital for medical attention.
Authorities have initiated an investigation into the circumstances surrounding the accident. In response to the tragic event, many motorists have voiced concerns about accidents occurring due to vehicles parked alongside the highway.
Last Updated Oct 26, 2023, 9:44 AM IST