Krishnagiri: Driver killed in unfortunate accident while transporting Dasara elephant; check details
An accident during the transportation of a Dasara festival elephant near Bengaluru resulted in the tragic death of the lorry driver, Arogya Swamy. The accident occurred as the driver parked the lorry for a restroom break, and it rolled forward, fatally injuring him. The "queen elephant" was unharmed. Authorities used cranes to rescue the elephant and manage traffic disruptions.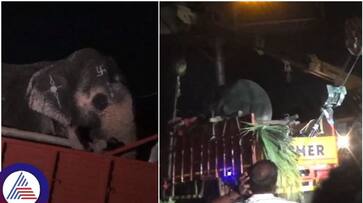 An unfortunate incident occurred during the transportation of a Dasara festival elephant from Tiruchi, Tamil Nadu. The accident took place near Bannerghatta on the outskirts of Bengaluru, resulting in the unfortunate death of the lorry driver. Remarkably, the elephant emerged from the accident without harm.
This tragic event unfolded in the Shanamavu forest area of Krishnagiri district, Tamil Nadu, and claimed the life of the lorry driver, Arogya Swamy, who hailed from Pudukkottai. The accident transpired when the driver parked the lorry on the roadside for a brief restroom break. As he stepped away from the vehicle to urinate, an unforeseen tragedy occurred - the lorry rolled forward, tragically leading to the driver's fatal injury.

Mysuru Dasara: World famous Jamboo Savari commences with grand floral tribute
The elephant affectionately referred to as the "queen elephant," had been brought from the Sri Rangam area of Trichy district to participate in the Dussehra celebrations at the Perumal temple in Bannerghatta, Karnataka. A group of six individuals had set out from Trichy during the late hours.

Mysuru Dasara 2023: Captain Abhimanyu to carry Ambari for 4th consecutive time
However, before reaching their destination, a calamity disrupted their journey, temporarily halting traffic on the national highway. Authorities worked to rescue the stranded elephant, employing the assistance of two cranes. The elephant was successfully removed from the lorry, while the body of the lorry driver, Arogyaswamy, was taken to Hosur Government Hospital.    
This unfortunate incident caused an hour-long traffic disruption on the national highway during the late hours, with the Hosur and Adco police responding to investigate and manage the situation.
Last Updated Oct 25, 2023, 3:36 PM IST