Bengaluru: Deadly accident claims biker's life, seriously injures pedestrian at Nelamangala (WATCH)
A fatal collision in Nelamangala near Bengaluru claimed the life of a two-wheeler rider and left a woman seriously injured. The accident involved the woman attempting to cross National Highway 4 and being struck by the two-wheeler, highlighting the need for improved road safety measures, particularly for pedestrians. The absence of safety infrastructure, such as a skywalk, has left pedestrians at risk on this perilous stretch of road.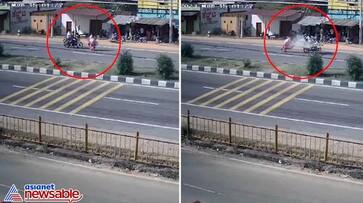 A bike rider lost his life in a collision with a woman who was crossing the road at Nelamangala near Bengaluru. The woman was seriously injured, and the two-wheeler rider lost their life in a head-on collision, further underscoring the need for enhanced road safety.
The accident, which occurred during the midday hours, involved a woman attempting to cross the highway in Nelamangala. She was struck by a two-wheeler, leading to her hospitalization in critical condition. Tragically, the two-wheeler rider succumbed to their injuries after the collision, marking yet another life lost on this perilous stretch of road.

Uttarakhand tragedy: Heartbreaking accident claims 6 lives, 2 from Bengaluru among victims
This incident serves as a grim reminder of the dangers posed by National Highway 4, which has become a concerning hotspot for accidents, especially for pedestrians. The absence of adequate safety measures and pedestrian crossings has contributed to the increasing risk for those traversing this busy highway.
Despite mounting concerns and appeals from the public, the authorities have failed to address the pressing need for the construction of a skywalk or other safety infrastructure. The lack of such safety measures has left pedestrians vulnerable to potential life-threatening accidents, as tragically demonstrated in the recent collision.
Last Updated Oct 25, 2023, 4:43 PM IST