Bengaluru Choke: Long weekend results in gridlock at Nandi Hills (WATCH)
Nandi Hills, a popular getaway near Bengaluru, experienced a massive traffic jam stretching over a kilometer on its winding mountain roads. Frustrated travelers shared videos and anecdotes about the challenges faced during weekend retreats to the destination. Traffic congestion in Bengaluru has also been a recent concern.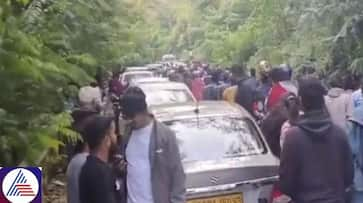 Nandi Hills, a picturesque getaway destination near Bengaluru, witnessed a significant traffic snarl that stretched for over a kilometre, causing frustration among travellers. A video shared by a user named 'Imran Khan' showed a long line of vehicles on the winding mountain roads leading to Nandi Hills, a few hours away from Bengaluru.
The video captured the moment when multiple vehicles, cars and bikes, were stuck in a massive traffic jam, inching their way toward the hilltop. Imran Khan's post highlighted the challenges those attempting a weekend retreat to Nandi Hills faced. He described the situation as a "massive kilometre jam" caused by the heavy influx of vehicles.

Actor Kapil Sharma enjoys serene beauty of Nandi Hills in Bengaluru while on vacation
The video attracted comments from viewers, with some sharing their own experiences of being caught in traffic on the same route. Others questioned why there wasn't stricter control on the number of vehicles allowed at the hill station.

Weekend 'Shakti': Surge in women passengers to tourism hotspots around Bengaluru
The traffic congestion near Nandi Hills follows recent reports of hefty traffic on the Outer Ring Road in Bengaluru. This gridlock was so severe that some residents missed out on attending the show of South African stand-up comedian Trevor Noah, with a few even giving away their tickets on social media.
As the long weekend approached, residents of Bengaluru faced difficulties even reaching Nandi Hills, a popular hangout spot located around 60 kilometres from the city, due to the one-kilometre-long traffic jam on the mountainous roads leading to the destination.
Last Updated Oct 2, 2023, 2:09 PM IST