Actor Kapil Sharma enjoys serene beauty of Nandi Hills in Bengaluru while on vacation
Renowned comedian Kapil Sharma and his team are enjoying a 15-day break in Bengaluru, including a trek to Nandi Hills, where they witnessed a beautiful sunrise. Kapil Sharma expressed interest in organizing a program in the city and is taking a break before his upcoming Dubai tour.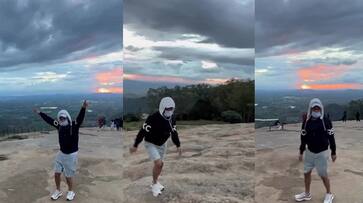 Renowned comedian Kapil Sharma, often referred to as the "comedy show king," is currently taking a break in Bengaluru. After a busy schedule of events, Kapil Sharma and his team are spending 15 days in and around Bengaluru, enjoying a well-deserved vacation at the famed Nandi Hills.
On Monday morning, Kapil Sharma and his friend Archana Pooran Singh, along with the entire team, embarked on a trek to Nandi Hills. They had the pleasure of witnessing the beautiful sunrise at Nandi Hill. Kapil Sharma shared a video of this experience on social media, which garnered responses from many Kannadigas, extending a warm welcome to the team in Bengaluru.

Kareena Kapoor and 7 other celebrities who misbehaved in flight
During their visit, Kapil Sharma expressed his desire to organize a program in the garden city and appreciated the serene beauty of Nandi hills and its surroundings, which provided a calming influence on their minds.

Kapil Sharma drops last photo of show, fans get emotional, nostalgic; check post here
While at Nandi Hill, Kapil Sharma followed the safety measures by wearing a mask and maintaining social distancing. He explored the area around Nandi Hill, and he even took some time to meditate while watching the sunrise. His video of dancing amidst the picturesque landscape has gained attention.
Archana Pooran Singh also shared videos of their outing, describing the experience as "Rejuvenation in the lap of nature." Kapil Sharma, who recently completed a successful UK tour, has a busy schedule with consecutive shows. His upcoming Dubai tour is set to commence on September 24, and he is taking this opportunity to relax and rejuvenate in Bengaluru before embarking on his next venture.
Last Updated Sep 12, 2023, 2:44 PM IST