Asianet News 'Dialogues': 'National interest above politics... always'
"Whatever our politics is, we should not let external forces exploit that and create a rift in this country. And we should not let our politics come above national interest. This is my core fundamental belief," Anil K Antony said during a special edition of Asianet News 'Dialogues'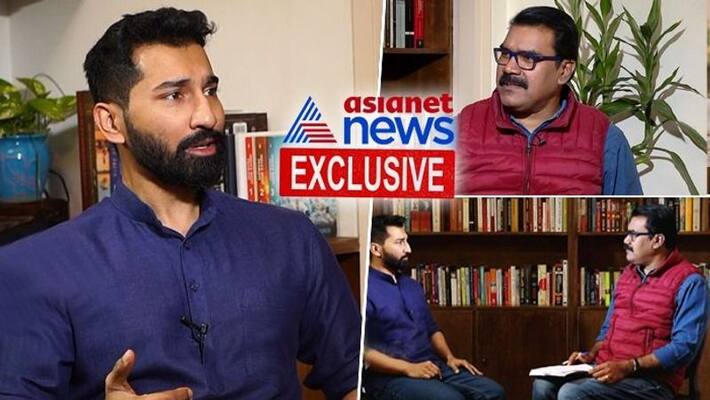 "If it suits the national interest, every citizen in this country should be working for a national agenda irrespective of who the Prime Minister is. For every citizen of this country, Prime Ministers come and go. National interest has to be upheld. Every citizen of the country, irrespective of their politics, should always put national interest above politics," said Anil K Antony, the former National Social Media Coordinator for the All India Congress Committee, said in a special edition of Asianet News 'Dialogues' when asked whether he would join the Bharatiya Janata Party.
Also Read: Exclusive: 'High Command demanded Rs 25 crore for Andaman LG post in 2010'
Anil Antony's tweet against the BBC and the documentary 'India: The Modi Question', which referred to the 2002 Gujarat riots and then state chief minister Narendra Modi's role, had created a lot of controversies. While the Congress party and its high command openly came out in support of the BBC documentary, the son of senior leader AK Antony came out criticizing it. The then KPCC Digital Media Cell Convener took to Twitter to comment that it is dangerous for Indians to prioritize the views of the BBC over that of Indian institutions. The views were not received well by the Grand Old Party. He was criticised by members of his own party and trolled on social media. The dejected leader resigned from the post of digital media cell convener. 
Anil, however, refuted speculation that he would switch over to the BJP.
Watch the full interview below and read on...

"These are just smear campaigns run against me by certain sections, mainly from my own party, my former colleagues. I did certain things based on my convictions and my conscience. At this moment, I want to focus on my professional work. I have no plans to join any other party or continue my current political work," he said.
"When I made the Tweet, I did believe that it was very innocuous and very self-explanatory. I had made it clear that I, as a person, have a lot of political differences with the BJP. But in the past few days, I saw some narrations that have been running in this country. I did think that everything is not right. I pointed that out, which I believe should be the concern of any Indian citizen who is concerned about the well-being of the country," said Antony when speaking to Asianet News Resident Editor-Delhi Prasanth Reghuvamsom.
Also Read: Asianet News Dialogues: 'Einstein's theory of relativity is incorrect, must be totally replaced'
"One of the main voices of this documentary is Mr Jack Straw, who has a very dubious background. He was the foreign secretary when Tony Blair was the Prime Minister. And he was one of the biggest proponents of the Weapon of Mass Destruction theory and was pushing for the Iraq war. Finally, he is one of the brains behind the Iraq war. And when someone like that brings a project into India, I do think that Indian citizens should be concerned. And the second thing I said was about the BBC, which has had a lot of past prejudices against India. I just said it in three-four words. I am both a democrat and a liberal. I do believe in the sanctity of free speech and free expression, without which a democracy cannot move forward. But this is not a regular scenario or a regular media outlet. This outlet, when you look at the last 75 years, is a repeat offender in spreading anti-India news. In many instances, it has shown the map of India without Kashmir on it. And when someone like that with somebody like Jack Straw is involved in a project, obviously, I have some concerns, and I raised it," he said.
Talking about the controversy generated by his Tweet with his party and whether he could have discussed his views internally, Antony said: "Twitter is just a social media tool. I post on many things on Twitter, from technology to sports to arts, and it does not make sense for me to check everything with the Congress party before I tweet. I don't think I have said anything against the Congress. I was talking about the BBC, their prejudices, and I said that we should not place partisan politics above national interest."
Disagreeing with the contention that he was disagreeing with the Congress stand on the matter, he said, "At that point, the Congress party did not have a stand. Congress party was saying let us screen the documentary all over the country. I never said that is wrong. I just said you should have concerns about where this is coming from, and you are setting some trends that are dangerous. I have not defied the Congress or said anything against the core values of the Congress."
Asked about his views about Narendra Modi's role during the 2002 Gujarat riots, he said, "I hear a lot of narrations. But a very detailed investigation was carried out, and everybody knows what is inside it. Many people in the BJP-RSS and Sangh Parivar had been implicated. But then, how can I say about somebody who has not been implicated to be absolutely culpable when I do not know the answer."
Rejecting speculations with some Congress quarters that he was actually bailing out Modi in this subject, Antony said, "I was not talking about Narendra Modi or Gujarat riots in any manner. I was pointing out some other aspects, which were about the BBC and its past history. These are two different things altogether. I was not justifying Mr Modi."
He further said: "Finally, whatever our politics is, we should not let external forces exploit that and create a rift in this country. And we should not let our politics come above national interest. This is my core fundamental belief."
Antony said he was disappointed with the manner in which some members of his party reacted. "I was appalled by how they responded. And that is when certain pressures were there for me to delete or apologise, I just did not. I was very firm that whatever I did was to the best of my understanding, conviction and conscience. I don't think that when you are in that stage, you should move a step back because I am doing what is based on my conviction."
Watch Asianet News Dialogues: 'We are in the best of times in the country'
Last Updated Feb 6, 2023, 8:23 PM IST