Urfi Javed booked for defaming Mumbai police with help of fake arrest video; actress breaks silence
"A criminal case has been registered against those involved in the misleading video, at Oshiwara Pstn un (Police Station) der sections 171, 419, 500, 34 IPC," the police said. Urfi Javed finally revealed that the police did not arrest her. She clarified that it was a part of a publicity stunt.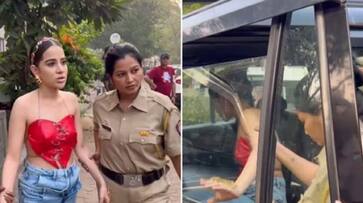 At last, Urfi Javed talked about her purported "arrest." On Friday morning, the actress was spotted being brought into prison by individuals wearing police uniforms, which raised rumours that she was being arrested. Mumbai Police emphasised that the "officials" seen in the films of her supposed "arrest" are not genuine and launched a criminal complaint against her, despite social media users' speculation that it was a ruse. Urfi Javed verified shortly after the explanation that she had been detained by the "fashion police," not the Mumbai Police.
Urfi shared a video on her Instagram account where she sported numerous looks and posed behind bars. She shared the video with the caption, "Arrested by the fashion police for my fierce fashion game, but nothing can stop me! Excited to announce FREAKIN' UORFICATION my collection launch with @Freakinsindia."
Also Read: Is Mrunal Thakur getting married to Telugu actor? Know details
Urfi also shared a photo from her alleged 'arrest' and wrote, "Arrested by the fashion police. Guys this was a campaign for a shoot."
Meanwhile, Mumbai police on Friday booked social media influencer Urfi Javed for maligning their image through fake arrest video, an official said. "A viral video of a woman being allegedly arrested by Mumbai Police, in a case of obscenity is not true - insignia & uniform has been misused," Mumbai police said on social media platform X after the 'Urfi Javed arrested' video went viral.
"However, a criminal case has been registered against those involved in the misleading video, at Oshiwara Pstn under sections 171, 419, 500, 34 IPC. While further investigation is on, the fake inspector is under arrest & the vehicle has been seized too. #RealityCheck," they added.
Also Read: Photos: Samantha Ruth Prabhu looks stylish at 'The Marvels' event in Hyderabad
What is Section 171?
Section 171 pertains to 'wearing garb or carrying token used by public servant with fraudulent intent", while section 419 deals with cheating by personation.
Urfi has had difficulties previously. According to ETimes, Urfi was the target of a complaint lodged at the Bandra Police Station last month about her wardrobe choices. Not long later, the actress had been to the police station.
Last Updated Nov 4, 2023, 11:13 AM IST