The Archies: Shah Rukh Khan applauds daughter Suhana Khan's debut trailer; Here's what he said
Shah Rukh Khan praises Zoya Akhtar's "The Archies" trailer, hailing its contemporary theme, timeless characters, and Zoya's unique touch. The film, inspired by an American comic series, stars Suhana Khan, Khushi Kapoor, and more. It's set to release on Netflix on December 7, 2023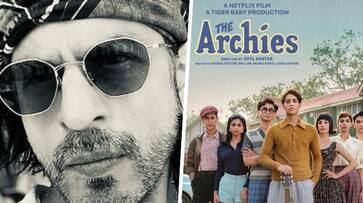 Shah Rukh Khan, the iconic Bollywood superstar, took to X (formerly Twitter) today to express his admiration for the long-anticipated official trailer of Zoya Akhtar's latest film, "The Archies." The trailer's release generated a positive response from the audience. The movie boasts a star-studded cast, including Suhana Khan, Khushi Kapoor, Agastya Nanda, Vedang Raina, and more, making it one of the most anticipated films of the year. Shah Rukh Khan's reaction to the trailer is as follows:
"A contemporary subject with timeless characters #TheArchies… thrown into a world that is very fable-like. Zoya has created such an innocent and pristine quality to the film…. maybe just like our world could be with a more responsible outlook towards the environment. All the best to the entire team involved with this sweet and meaningful fun film!"
It's worth noting that Shah Rukh Khan had previously made a cameo appearance in Zoya Akhtar's debut film, "Luck By Chance."
About "The Archies": "The Archies" is a teen musical comedy film helmed by director Zoya Akhtar, with a screenplay written by Akhtar, Reema Kagti, and Ayesha Devitre Dhillon. The film draws inspiration from the popular American comic book series of the same name and features a talented ensemble cast, including Mihir Ahuja, Aditi 'Dot' Saigal, Khushi Kapoor, Suhana Khan, Yuvraj Menda, Agastya Nanda, and Vedang Raina.
ALSO READ: Mr. & Mrs. Mahi: Karan Johar reveals first poster; Jahnvi Kapoor, Rajkumar Rao starrer to release on this date
The film is set to premiere on Netflix on December 7, 2023. Two songs from the movie, "Sunoh" and "Va Va Voom," have already been released, giving the audience a glimpse into the film's world and generating significant excitement.
ALSO READ: Salaar: Prabhas-led actioner-drama film's trailer date revealed; Know details
The trailer offers a sneak peek into the film's storyline, highlighting a love triangle involving the characters portrayed by Khushi, Agastya, and Suhana. Additionally, the trailer hints at the town of Riverdale's efforts to protect their beloved green park. With a distinct Zoya Akhtar directorial style, "The Archies" promises to deliver a perfect blend of humor, romance, and melodious tunes. The film is produced by Tiger Baby Films.
Last Updated Nov 9, 2023, 5:53 PM IST