Mr. & Mrs. Mahi: Karan Johar reveals first poster; Jahnvi Kapoor, Rajkumar Rao starrer to release on this date
Karan Johar has unveiled the first poster for the upcoming film "Mr. & Mrs. Mahi" featuring Rajkumar Rao and Jahnvi Kapoor in the lead roles.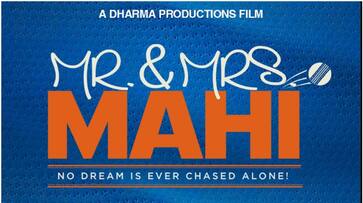 In the realm of exceptional actors, Janhvi Kapoor and Rajkummar Rao stand out, each renowned for their prowess in choosing roles rich in substance. The anticipation of movie enthusiasts soared when the news broke that the dynamic duo would be starring in a cricket-themed film titled "Mr. & Mrs. Mahi."
Recently, Karan Johar, the maestro behind the cinematic magic, unveiled the release date of this much-anticipated project. Taking to his Instagram handle, he shared a captivating date reveal poster, adorned with the title "Mr. & Mrs. Mahi" and the tagline "No Dream Is Ever Chased Alone." The orange-hued inscription boldly proclaimed the film's arrival on April 19, 2024. Karan Johar, in his caption, exuded excitement, stating, "It's all heart and more, that makes a magical story 'pitch-er perfect'!🧡🧡🧡 #MrAndMrsMahi in cinemas on 19th April, 2024."
The film, casting Rajkummar Rao as Mahendra Singh Dhoni and Janhvi Kapoor as the character Mahima, has been a subject of fervent curiosity. In a candid interview with Mid-Day, Janhvi disclosed the arduous journey she embarked on to encapsulate the essence of a cricketer. Reflecting on six months of intensive training, she shared, "It was an exhaustive process of six months to get into the skin of the character and sync into the role."
Sources close to the project spilled details on Janhvi's dedication, revealing her rigorous training regimen encompassing cricket stances, batting techniques, and an in-depth understanding of a player's body language. He said, ""She trained in cricket stances – from batting to understanding the body language of a player. The training was tailored as per the film's needs. It has been a physically intensive film for Janhvi as she also maintained a strict protein-heavy diet to portray the agility of an athlete."
ALSO READ: Salaar: Prabhas-led actioner-drama film's trailer date revealed; Know details
Last Updated Nov 9, 2023, 5:00 PM IST