Rashmika Mandanna's deepfake video: Mrunal Thakur applauds actress for raising voice against such videos
Bollywood actress Mrunal Thakur calls on people to join her in speaking out against events like these. She supports Rashmika Mandanna, who spoke up against the viral deepfake video in which she was featured.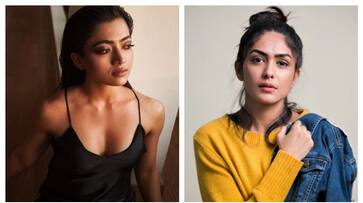 A deep fake video featuring Rashmika Mandanna's manipulated face recently gained popularity on the internet. The actress strongly denounced the video, and many celebrities, including actress Mrunal Thakur, expressed their support. Mrunal Thakur penned a note praising Rashmika for her stance and encouraged others to raise their voices against such incidents.
Mrunal Thakur took to her Instagram stories to commend Rashmika Mandanna for taking a firm stance against the viral deepfake video circulating online. She openly criticized those resorting to such actions, highlighting the daily challenges female actresses face with their images being morphed and manipulated. 
Also Read: Rashmika Mandanna to Scarlett Johansson, celebs who were victims of Deepfake
Mrunal urged others to join the conversation, stating, "Shame on people who resort to such things, it shows that there's no conscience left at all in such people. Thank you rashmika_mandanna for speaking up, for addressing this issue that so far we have seen glimpses of but a lot of us chose to remain silent. Every day there are morphed, edited videos of female actors floating around on the internet zooming into inappropriate body parts. Where are we heading as a community, as a society? We may be actresses in the 'limelight' but at the end of the day, each one of us are human. Why aren't we talking about it? Don't remain silent, now is not the time."
Also Read: Rashmika Mandanna breaks silence on viral Deepfake Video circulating on her
Take a look: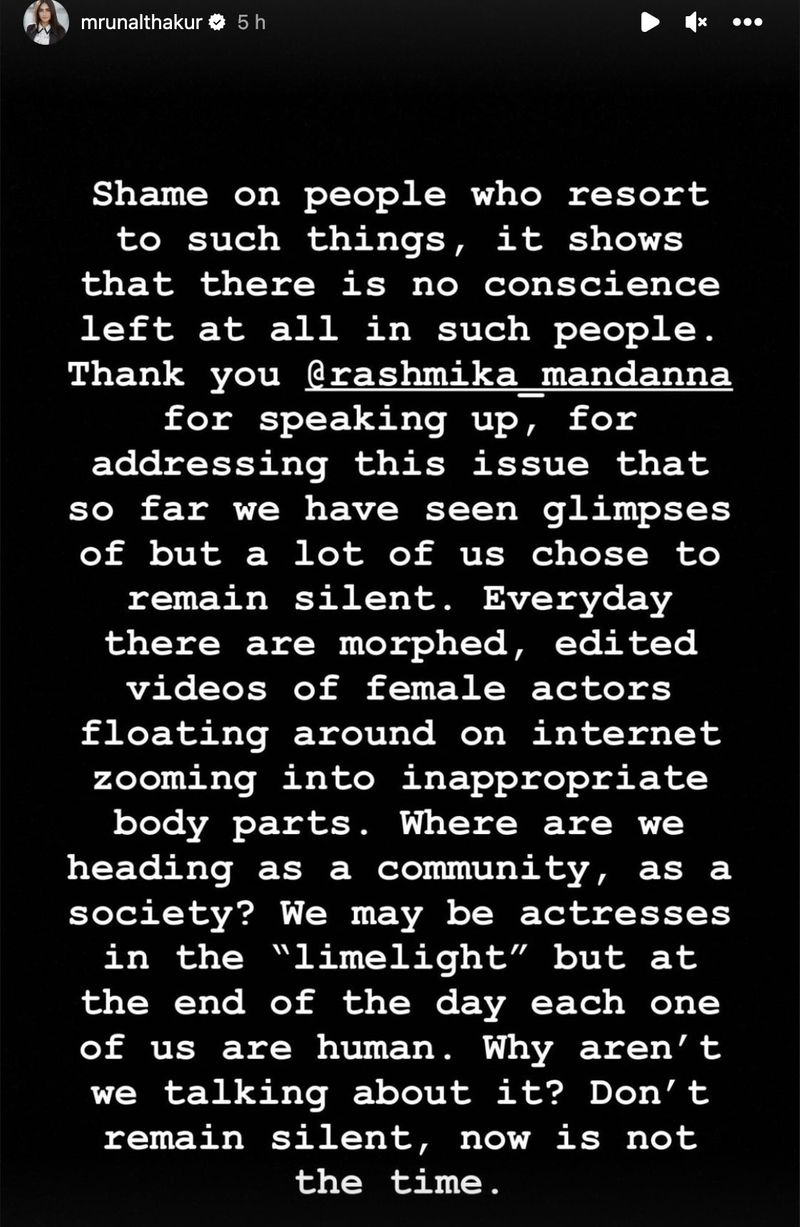 Rashmika Mandanna brought attention to the problem of deepfake films earlier today, and she got support on social media. Journalist Abhishek Kumar called for legal frameworks to tackle such events in India after exposing a deepfake video that was previously thought to represent Rashmika. Zara Patel, a British-Indian influencer, was the subject of the video. Amitabh Bachchan, who highlighted the worrisome realism of deepfake technology and its ability to trick viewers, supported Kumar's inquiry.

Mrunal Thakur received praise for her recent performance in her debut comedy film, Aankh Micholi. Her upcoming endeavour is Pippa, in which Ishaan Khatter co-stars. However, Rashmika will be appearing with Ranbir Kapoor in Animal, which is slated for release in December 2023.
Last Updated Nov 7, 2023, 9:04 AM IST