Parineeti Chopra's school friend accuses her of dishonesty regarding financial struggles; READ
Bollywood actress Parineeti Chopra faces controversy over childhood claims in old video. Classmate accuses her of lying about financial struggles, leading to a clarification.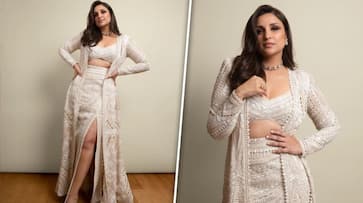 Bollywood actress Parineeti Chopra has been in news recently due to her dreamy wedding with Rajya Sabha MP Raghav Chadha. Now an old video of her is making rounds on the internet in which Parineeti could be seen talking about her difficult childhood. However, reacting to this video one of her classmates from school says that she is lying.
In the video interview, Parineeti talks about how she had to face several hardships during her childhood because her parents were not financially strong. She said "I am from Ambala. We faced several hardships when we grew up. I have two brothers. We didn't have a lot of money. I used to go to school on a bicycle. We had no car, driver or money for bus,"
Parineeti Chopra being called out by her school friends for lying.
byu/Snoo-75780 inBollyBlindsNGossip
Shortly after Parineeti's interview clip gained widespread attention, an individual claiming to be one of her former classmates, Kkanoo Gupta, publicly criticized and rebuked her for her statements. He said "lying through the teeth in front of the camera." He accused that Parineeti is lying as her father used to own a car at that time which was considered luxurious.
Reacting to her classmate's accusation Parineeti later clarified that her statement in the video was 'misconstructed' and that despite her father owning a car, she and her brothers were prohibited from utilizing it. "I was talking about using a car and driver to go to school. That's all. The essence of what and why I was giving that example was completely lost," a part of her statement read.
ALSO READ: WATCH: Shahid Kapoor, Kiara Advani, Varun Dhawan, and Tiger Shroff dance to 'Jumma Chumma'
Last Updated Oct 7, 2023, 11:42 AM IST