Miss Universe 2023: Transgender contestants secure spots as Netherlands and Portugal Crown victors
Marina Machete, a transgender flight attendant, won Miss Portugal and will compete in Miss Universe, alongside transgender Miss Netherlands winner Rikkie Valerie Kollé, sparking debates on transgender participation in beauty pageants. They join Angela Ponce of Spain in breaking barriers for inclusivity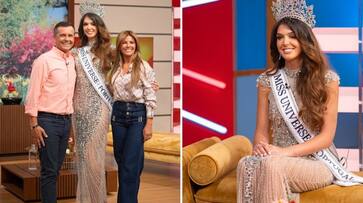 In a historic moment, a 28-year-old flight attendant made history by becoming the first transgender contestant to win the title of Miss Portugal. This remarkable achievement has paved the way for her to compete in the upcoming Miss Universe competition in El Salvador, which is set to take place next month.
Marina Machete, who had expressed her pride and excitement leading up to the competition, took to Instagram to share her joy. In a post before the event, she said, "Proud to be the first trans woman to compete for the Miss Universe Portugal title! For many years I wasn't eligible to compete and now it's such an honor to be a part of this incredible group of candidates."
Machete will be joined at the Miss Universe competition by another trailblazing transgender contestant, Rikkie Valerie Kollé. Kollé, who made history by becoming the first biological male to claim the Miss Netherlands crown in July, will compete alongside Machete in this significant pageant.
Marina Machete celebrated her historic win in a separate Instagram post, expressing her anticipation for the Miss Universe competition. Her post, translated from Portuguese, read, "We're counting down to @missuniverse 2023. El Salvador, see you soon!"
However, these groundbreaking achievements have not been without controversy. The topic of transgender women competing in traditional women's beauty pageants has sparked intense debates, with some critics claiming that this infringes on women's spaces. Rikkie Valerie Kollé, who faced backlash and hate messages, shared her experiences in an interview with Newsweek, stating, "They [critics] see us as monsters, and my daily DMs are full of people wishing me dead. Wishing me dead and telling me to [commit] suicide, those things are terrible to write, but at the same time, it's only lifting me up because I get a bigger platform than I could ever dream of."
For Kollé, competing as a transgender contestant offers an opportunity to represent the LGBTQ+ community. She emphasized, "Let's make my Queer community proud by doing this."
It's worth noting that not all beauty pageants have embraced transgender contestants. The Miss Italy pageant, for example, responded to Kollé's historic win by implementing a policy that bans biological males from participating. Patrizia Mirigliani, the Official Patron of Miss Italy, explained the decision, saying, "Since it was born, my competition has foreseen in its regulation the clarification according to which one must be a woman from birth. Probably because, even then, it was foreseen that beauty could undergo modifications, or that women could undergo modifications, or that men could become women."
ALSO READ: Why did Alia Bhatt threaten to block 'Jaideep Ahlawat's number post Raazi? Deets inside
Both Marina Machete and Rikkie Valerie Kollé follow in the footsteps of Spain's Angela Ponce, who made history in 2018 as the first transgender contestant to compete in the global Miss Universe pageant. These remarkable individuals continue to break barriers and challenge norms in the world of beauty pageants, helping to foster greater inclusivity and diversity.
Last Updated Oct 12, 2023, 3:18 PM IST