Why did Alia Bhatt threaten to block 'Jaideep Ahlawat's number post Raazi? Deets inside
Jaideep Ahlawat, acclaimed for his on-screen performances, usually avoids watching himself. However, he broke this habit for 'Paatal Lok' and 'Raazi'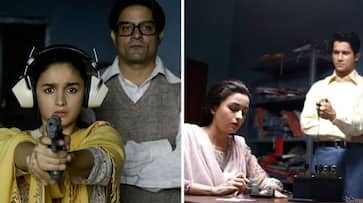 In a recent interview, Jaideep Ahlawat, known for his outstanding on-screen performances, made an exception to watch his work in the superhit series "Paatal Lok" and Meghna Gulzar's "Raazi." The "Jaane Jaan" actor revealed that he typically avoids watching himself on screen but was persuaded to watch these particular projects. Ahlawat humorously mentioned that he agreed to watch "Raazi" after Alia Bhatt and Meghna Gulzar playfully 'threatened' to block his contact number.
Ahlawat admitted that it's normal to be affected by the intensity of one's work. He recounted that during the filming of "Raazi," he experienced nightmares for the first time in his life. He attributed this to immersing himself deeply in the world of espionage due to extensive research for his role. He explained in Hindi while speaking to his "Jaane Jaan" co-star Saurabh Sachdeva, "I watched Raazi only after Meghna and Alia threatened to block my number. I went for the fourth screening."
He also shared an incident from the "Raazi" sets, where they were running out of time on the final day of a shooting schedule in Patiala, and he had to perform a close-up scene. Meghna Gulzar, the director, couldn't watch it on the monitor but assured Ahlawat that they would shoot three different takes, expressing confidence that it would turn out well. This added a lot of pressure on the actor.
Released in 2018, "Raazi" revolved around the character Sehmat Khan, portrayed by Alia Bhatt, who is an undercover RAW agent married into a Pakistani family. The film received a lot of love from the audience.
ALSO READ: National Cinema Day: Advance booking for Fukrey 3, Mission Ranigaj, Jawan combined crosses 3.10 lakh; Read
Recently, Jaideep Ahlawat appeared in the murder mystery "Jaane Jaan" alongside Kareena Kapoor Khan and Vijay Varma. The film is currently available for streaming on Netflix.
Last Updated Oct 12, 2023, 11:52 AM IST