Lal Salaam teaser OUT: Rajnikanth to have stellar cameo in Aishwarya Rajnikanth directorial
The teaser for 'Lal Salaam' unveils Rajinikanth's special appearance as Moideen Bhai, stealing the show in the Tamil sports drama. Directed by Aishwarya Rajinikanth, the film features Vishnu Vishal and Vikranth in rival roles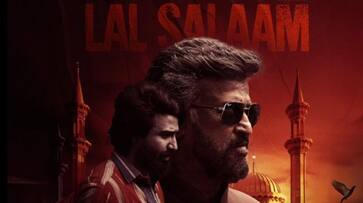 The highly anticipated teaser of the upcoming Tamil sports drama, 'Lal Salaam,' has been unveiled, much to the delight of fans eagerly awaiting Rajinikanth's return to the big screen. The film, directed by Aishwarya Rajinikanth and produced by Subaskaran Allirajah of Lyca Productions, features Vishnu Vishal and Vikranth in pivotal roles, with Rajinikanth making a special appearance as Moideen Bhai.
Despite having just a cameo role, Rajinikanth steals the spotlight in the teaser, making it a perfect Diwali treat for his dedicated fanbase. The narrative revolves around two rival groups led by Vishnu Vishal and Vikranth, where even a cricket match transforms into a fierce battle. The chaos ensues, and religion becomes a significant factor in the conflict. Rajinikanth's character intervenes, emphasizing the importance of not intertwining religion with sports.
The film's title, 'Lal Salaam,' suggests a theme of solidarity or salute, and the teaser hints at intense rivalry and conflict between the two groups. The sports drama is set against the backdrop of a cricket match, portraying it as more than just a game but a symbol of war between the rival factions.
Directed by Aishwarya Rajinikanth, the film boasts the musical prowess of renowned composer A. R. Rahman. 'Lal Salaam' is scheduled for a theatrical release during Pongal 2024, although the specific date is yet to be announced. With Rajinikanth's charismatic presence and the intriguing storyline teased in the trailer, the film is poised to be a significant cinematic event for Tamil cinema enthusiasts.
ALSO READ: Tiger 3: Hrithik Roshan as Kabir's cameo confirm in Salman Khan, Katrina Kaif starrer; Read more
Last Updated Nov 12, 2023, 4:35 PM IST