Koffee With Karan 8: Karan Johar reveals about his 'anxiety attack' at NMACC launch
Ranveer Singh was totally surprised and shocked after Karan Johar revealed that he experienced a panic and anxiety attack at the launch of NMACC earlier this year in the first episode of Koffee With Karan season 8 and did not understand what to do.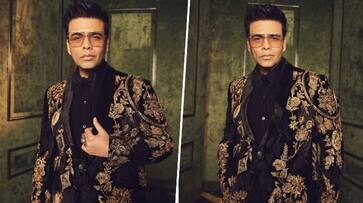 Karan Johar got emotional on the latest episode of Koffee With Karan Season 8 as he revealed that he experienced a legit anxiety attack at the launch of Nita Mukesh Ambani Cultural Centre (NMACC) in April 2023 this year. Karan was having an honest, candid, raw and no-holds-barred conversation with Bollywood power couple Deepika Padukone and Ranveer Singh on his popular chat show. Karan was all praise for Deepika for being vocal about her mental illness and how he could not fully understand it until he experienced "a legit attack" himself.
ALSO READ: Koffee With Karan 8: Ranveer Singh's 'special message' for critics bashing him for 'Don 3' is unmissable
Remembering the incident, Karan revealed, "The legit attack I had was at the NMACC launch. I remember Varun Dhawan was staring at me. I was sweating. I did not even realize that my face was full of sweat. Varun came, and he was like, Are you okay? My hands were shaking. And then he took me to an empty room. I first thought if it was a cardiac arrest. I did not know what I was going through. I got out of my jacket, which was long and elaborate. I just left in half an hour. I went back home. I just went to my bed. I cried. I did not know why I was crying."
Karan continued, "I called my psychologist the next day, who I have known and dealt with before. I asked her, What do I do? I am just going through a tough time. I also have a film release coming up. Then she put me on medication, which I am still on. My mom is going to see this. But I am okay."
Deepika Padukone came out about her mental illness in 2015 and revealed that she battled depression in 2014 and sought professional help. Her foundation, Live Love Laugh, aims to help those struggling with mental health.
ALSO READ: Koffee With Karan: Karan Johar to make love triangle with Deepika Padukone, Ranveer Singh and Ranbir Kapoor?
Last Updated Oct 26, 2023, 11:47 AM IST