Koffee With Karan: Karan Johar to make love triangle with Deepika Padukone, Ranveer Singh and Ranbir Kapoor?
Ranveer Singh revealed on "Koffee With Karan" that Karan Johar had plans to remake "Sangam" with him, Ranbir Kapoor, and Deepika Padukone, sparking excitement among fans for a potential love triangle on-screen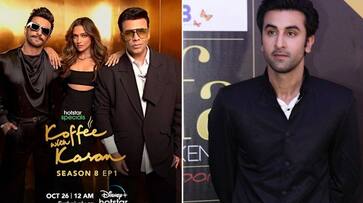 Ranveer Singh recently made an astonishing revelation during the first episode of the eighth season of the popular talk show "Koffee With Karan." He disclosed that renowned filmmaker Karan Johar had once expressed an interest in remaking the classic Bollywood film "Sangam" with a star-studded cast that included Ranveer Singh himself, Ranbir Kapoor, and Deepika Padukone.
"Sangam," a 1964 film directed by Raj Kapoor, narrates the story of two best friends who both fall in love with the same woman. The original movie featured Raj Kapoor, Vyjayanthimala, and Rajendra Kumar in leading roles and was a huge box office success.
During the rapid-fire round on the show, Karan Johar posed a question to Ranveer Singh: "In a love triangle featuring you and Deepika, which male actor would you not mind being cast as the third character?" To this, Ranveer promptly replied, "Ranbir." He then further revealed, "You wanted to make Sangam with the three of us, right?" Confirming Ranveer's statement, Karan acknowledged, "Yes," but Ranveer playfully criticized him for not taking action on this exciting project. Karan, however, assured that he could still make the "Sangam" remake and asked, "Sign it?" Deepika Padukone enthusiastically responded, "Done," while Karan expressed his eagerness to make it happen.
The prospect of a love triangle featuring Ranveer Singh, Deepika Padukone, and Ranbir Kapoor has piqued the interest of fans who have long awaited a collaboration between Ranbir and Ranveer. The actors had appeared together in a 2016 episode of "Koffee With Karan," showcasing their bromance and sparking hopes of a future on-screen collaboration.
Aside from discussing the "Sangam" remake, Ranveer also shared that if he were to recreate the iconic "Dola Re Dola" performance from "Rocky Aur Rani Ki Prem Kahani," he would choose Ranbir Kapoor as his co-star. Despite the interesting revelations, the coveted "Koffee hamper" was ultimately awarded to Deepika Padukone.
Last Updated Oct 26, 2023, 10:36 AM IST