Joe Jonas, Sophie Turner divorce: Former spends quality time with daughters amidst proceedings
Joe Jonas and Sophie Turner navigate a high-profile divorce and custody dispute while maintaining a public presence; their legal battle unfolds in the United States and England, amidst all these Joe Jonas was seen spending time with his two daughters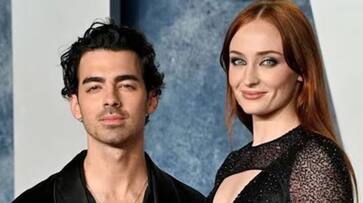 Joe Jonas was recently captured on camera, cherishing precious moments with his two daughters, Willa and Delphine, amidst the ongoing divorce proceedings with his estranged wife, Sophie Turner. The 34-year-old member of the Jonas Brothers was spotted by media outlets as he made his way to Twinkle Playspace in Brooklyn, New York, with his 3-year-old toddler in tow. Joe sported a casual look in a blue striped shirt and jeans, while Willa looked adorable in her outfit. Delphine, who is just 1 year old, donned a matching sweater to her older sister and was seen being carried by a woman who appeared to be a nanny. The purpose of this outing was reportedly to attend a birthday party.
This heartwarming moment came shortly after a hearing in Miami that aimed to determine the jurisdiction for Joe Jonas and Sophie Turner's divorce proceedings. While Joe preferred the case to be heard in the United States, Turner advocated for it to take place in England, where she intends to raise their daughters. However, during the Wednesday hearing, the court decided to postpone their decision until another lawsuit involving Turner was resolved, as reported by Page Six.
In the recent lawsuit, Turner accused her estranged husband, Joe Jonas, of withholding their daughters' passports, abducting them, and preventing her from taking them to her home country. Additionally, she asserted that she was informed of Joe Jonas filing for divorce through media sources almost three weeks after a heated argument on the singer's birthday
Contrary to Turner's allegations, Joe Jonas vehemently denied all accusations and asserted that he had informed her of his intention to file for divorce in advance and had not abducted their children.
Nevertheless, an agreement was reached for the children to remain in New York while their legal dispute continues, according to Page Six.
According to reports, Joe Jonas officially filed for divorce from Game of Thrones star Sophie Turner on September 5, ending their four-year marriage. While Turner initially kept a low profile following their separation, she has since been seen spending time with her daughters and socializing with her friend Taylor Swift on several occasions.
Numerous photographs of Taylor Swift and Sophie Turner together have circulated on social media. Turner and her daughters have reportedly been residing in one of Taylor Swift's apartments as the estranged couple navigates the complexities of their custody arrangements.
Interestingly, Joe Jonas has a history with Taylor Swift as well. The two dated for a few months in 2008 when Taylor Swift shared the stage with the Jonas Brothers during several concerts of their Burnin' Up Tour.
ALSO READ: Shah Rukh Khan, Ranbir Kapoor, Alia Bhatt all together for new Jawan-inspired ad; here's how netizens reacted
Last Updated Sep 29, 2023, 10:12 AM IST