Jenna Ortega denies false reports of dating Johnny Depp; calls rumours 'ridiculous'
There have been reports of a relationship between Jenna Ortega and Johnny Depp. The actress from "Wednesday" has now denied the rumours.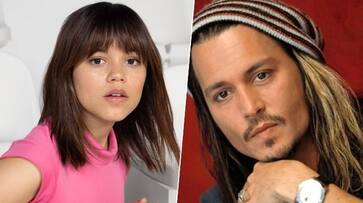 Recently, there were rumours of a relationship between "Wednesday" actress Jenna Ortega and Hollywood legend Johnny Depp. When a gossip website called Deuxmoi incorrectly claimed that Depp and Ortega had been seen together on a date, rumours about the couple's connection began to circulate. Additionally, according to the website, the two may be collaborating on "Beetlejuice 2." Depp is 60 years old, although the actress is only 20. The unfavourable rumours have now been addressed by Ortega, who is 40 years Depp's junior. She described them as absurd.
ALSO READ: Watch: Nagarjuna asks 'where is Samantha' to Vijay Deverakonda on Bigg Boss Telugu 7's grand premiere
Regarding whether she is dating the "Pirates of the Caribbean" actor, Jenna Ortega clarified the situation. Ortega commented on her Instagram Story, "This is so ridiculous I can't even laugh." "I have never met Johnny Depp or done any work with him. Please quit circulating false information and leave us alone. Jenna Ortega rose to prominence throughout the world in 2022 after portraying Wednesday Addams in the Netflix horror comedy series "Wednesday." For her portrayal, she was nominated for a Golden Globe, a Primetime Emmy, and a Screen Actors Guild Award.
The rumours were also refuted by Johnny Depp in a statement released through a spokesman. It stated, "Mr. Depp has no relationship, either personal or professional, with Ms. Ortega. He has never spoken to or met her. Since his infamous defamation case against ex-wife Amber Heard, Depp has been in the news frequently. After suing his ex-wife Amber for defaming him in a 2018 Washington Post article in which she identified herself as a victim of domestic abuse, he eventually prevailed in the case. In 2016, Heard requested a divorce, alleging that Depp had physically mistreated her while inebriated during their marriage.The statement added: "He is not involved in any project with her, nor does he intend to be. He is appalled by these baseless and malicious rumours that are intended to harm his reputation and career."
Heard was "trying to secure a premature financial resolution by alleging abuse," according to Depp, who refuted the claims. In 2017, their divorce became final. Because of an opinion piece Amber Heard published in the Washington Post in 2018, Johnny Depp later sued her for defamation. I stood out against sexual violence and was attacked by our culture, according to the op-ed. Heard, who acknowledged having experienced domestic abuse, said things needed to change. She did not however mention Depp.
ALSO READ: Rana Daggubati has to say THIS on 'Jai Bhim-National Awards' controversy
Last Updated Sep 4, 2023, 12:39 PM IST