Rana Daggubati has to say THIS on 'Jai Bhim-National Awards' controversy
Rana Daggubati responds to the controversy surrounding "Jai Bhim" not receiving any National Awards, emphasizing that it's a matter of personal opinion, not a controversy, and mentioning Allu Arjun's historic win as the first Telugu actor to receive a National Film Award for Best Actor in 69 years--by Amrita Ghosh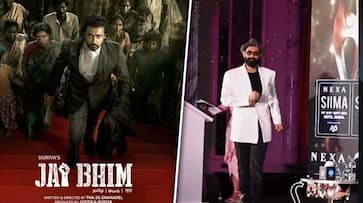 Bahubali actor Rana Daggubati is known for speaking his mind in the film industry. Post the announcement of National Awards, a controversy that has taken storm is the fact that Suriya starrer 'Jai Bhim' in spite of various nominations, failed to win in a single category. Celebrities like Nani and Prakash Raj have expressed their disappointment with the issue.
During an event, a journalist questioned why receiving an award had become such a contentious issue, with actors criticizing each other. They pointed out that "Pushpa" won a National Award for Allu Arjun's acting, while "Jai Bhim" was left empty-handed. Rana Daggubati responded by saying, "Each person is entitled to their opinion. I may like one movie, and you may prefer another. The same goes for artists. It's not about the individual; it's about the fact that a particular story deserved more recognition and didn't receive it. That's all. It's not about why someone received an award. So, there's no controversy there. At most, a star might express their opinion through a tweet. Controversy is what you folks in the media create, by publishing articles, making videos, and using voices like mine to make it go viral. But among us, there is no controversy."
The journalist continued by asking Rana about Nani's post concerning "Jai Bhim" and Balakrishna's comments on awards at the event. Rana responded, "What did Nani do? Why is it considered controversial? It's all based on assumptions. Completely. I can like many things, and you can like many things. Not everyone can receive recognition. It's all a matter of opinions. Everyone in this room has an opinion. In English, there's a saying, but I can't say it here right now. I'm sure everyone is aware."
For those unfamiliar with the situation, "Jai Bhim," starring Suriya, was nominated for National Awards but did not win in any category. Nani expressed his disappointment with a post that included a heartbroken emoji. This raised eyebrows, especially since Allu Arjun became the first Telugu actor to win the Best Actor National Award. Many fans were surprised and disheartened that "Jai Bhim" did not receive any National Awards, despite being a strong contender and one of the biggest blockbusters of 2020.
ALSO READ: Sukesh Chandrashekhar's new letter to Jacqueline Fernandez mentions Shah Rukh Khan's Jawan song
Allu Arjun's win marked a historic moment as he became the first Telugu actor to receive the National Film Award for Best Actor in 69 years, a moment celebrated and praised by many.
Also Read: Chandramukhi 2 trailer out: Kangana Ranaut's film to release on Ganesh Chaturthi
Last Updated Sep 4, 2023, 10:56 AM IST