Is marriage on the cards for Shubman Gill and Sara Tendulkar? UAE cricketer accidentally said THIS (WATCH)
A video of UAE cricketer Chirag Suri confirming Indian batting star Shubman Gill and Sara Tendulkar's relationship on a podcast has surfaced on social media and grabbing a lot of eyeballs.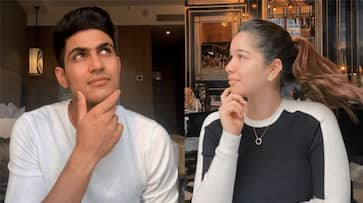 Rumours surrounding Indian batting star Shubman Gill and Sachin Tendulkar's daughter, Sara Tendulkar, has once again become a hot topic of discussion after UAE cricketer Chirag Suri claimed that the two are indeed in a relationship. During a recent interview with Lovin Dubai, Chirag Suri appears to have confirmed what the rumour mill has been spreading for months, and went on to suggest that marriage might be on the horizon for them. A video clip of the interview has surfaced on social media, causing a stir among fans and followers.
Also read: Viral photo of Sara Tendulkar hugging Shubhman Gill sparks deepfake concerns
In the interview, Chirag Suri was asked, "Who is the next player to get married?" to which the UAE player responded, "Shubman Gill."
"What's her name?" asked the host of the podcast.
"Sara, Sachin Tendulkar's daughter," Suri said adding, "The Ex-GOAT. She's probably seen her dad for the last 40-50 years just play cricket and not it will be like another 40 years. You know once you like something and then you're like I want to stay away from it. The more you want to stay away from it, the more it sucks you in. It's in the case with this girl."
However, the candid disclosure by Chirag Suri has not been without its share of criticism. Many netizens took to social media to express their disapproval, questioning the ethics of discussing someone else's relationship in a public forum without their consent. Some users expressed concern about the breach of privacy, emphasizing that such matters should be kept private unless confirmed by the individuals involved.
In response to Chirag's revelation, it has been observed that Shubman Gill reportedly unfollowed Chirag Suri on Instagram, suggesting potential discomfort with the public discussion of his personal life.
Also read: Shubman Gill claims No.1 ODI batsmen rank, Ending Babar Azam's reign
It's worth noting that even Sara Ali Khan, in a recent appearance on 'Koffee with Karan,' addressed the rumors by stating, "You've got the wrong Sara, guys," when questioned about her relationship with Shubman Gill.
The speculation around Sara Tendulkar and Shubman Gill's relationship gained momentum when Sara was spotted at a recent ODI World Cup 2023 match between India and Sri Lanka at Mumbai's Wankhede Stadium. Additionally, her visible disappointment after Shubman's wicket added fuel to the ongoing rumours.
As the social media frenzy continues, fans are left eagerly anticipating further developments in the Sara-Shubman saga.
Last Updated Nov 10, 2023, 1:31 PM IST