Viral photo of Sara Tendulkar hugging Shubhman Gill sparks deepfake concerns
A viral picture of Sara Tendulkar and cricketer Shubman Gill hugging has sparked concerns about deepfake technology. The image falsely suggests a romantic relationship. The Indian government has issued a warning, demanding the removal of manipulated content within 24 hours, under the threat of imprisonment and fines. Union Minister Rajiv Chandrasekhar stressed the need for social media platforms to comply with legal obligations.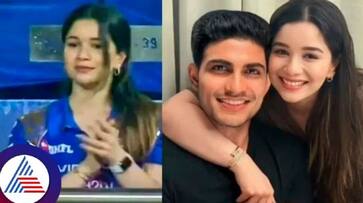 A widely shared picture of Sara Tendulkar hugging cricketer Shubman Gill has sparked discussions about whether it's genuine or a product of deepfake technology, causing worry about fake content on social media.
This concern follows the recent circulation of a deepfake video featuring Rashmika Mandanna, as well as a manipulated image of Bollywood actress Katrina Kaif. Prominent figures like Amitabh Bachchan and Mrunal Thakur expressed strong reactions to these deceptive digital creations.

Rashmika Mandanna Deepfake video: Telengana MLA K. Kavitha calls for urgent action to safeguard Indian women
The newest instance in this disconcerting trend involves Sara Tendulkar, daughter of cricket legend Sachin Tendulkar, and accomplished cricketer Shubman Gill. A picture of them appearing affectionate has quickly gone viral on social media platforms.
Rumours of romance: Shubman Gill and Sara Tendulkar
Speculation has swirled around a potential romantic relationship between Shubman Gill, an opening batsman for Team India, and Sara Tendulkar. This speculation was fueled by their interactions on social media and Sara's visible support for Gill at cricket matches. The most recent development in this saga is a viral photograph with the caption "Sara Tendulkar confirms she is dating Shubman Gill." While this delighted their fans, it has been revealed that the image is not genuine but a cleverly manipulated deepfake.
Sara's original photo with Arjun Tendulkar
The real photograph was shared by Sara on her brother Arjun Tendulkar's 24th birthday on September 24, 2023. In the authentic image, Arjun is sitting in a chair, holding an ice cream cone and looking smart in a black t-shirt with green pants. Sara, dressed in a brown top and black pants, is hugging her brother affectionately. This original image has been digitally altered and widely spread across the digital realm.

Vijay Deverakonda breaks silence on rumoured girlfriend Rashmika Mandanna's viral deepfake video row
Government involvement: Central warns on deepfakes
The rise of deepfake content on social media has prompted a stern warning from the central government. They have set a strict deadline for the removal of fabricated photos and videos within 24 hours of a filed complaint. The Union Ministry of Information Technology has reissued guidance on key aspects of the Information Technology Act, stressing the need for prompt action against manipulated media. Failure to comply with this directive could result in a three-year prison sentence and a substantial fine of one lakh rupees. Social media platforms have been cautioned to fulfil their legal obligations under the Information Technology Act.
Union Minister of State for Information Technology and Knowledge, Rajiv Chandrasekhar, expressed concern over these digital manipulations on Monday, emphasizing that social media platforms must adhere to their legal obligations as outlined in the Information Technology Act.
Last Updated Nov 8, 2023, 4:46 PM IST