Shubman Gill claims No.1 ODI batsmen rank, Ending Babar Azam's reign
Shubman Gill's stellar performances in the 2023 Cricket World Cup have propelled him to the pinnacle of the ICC men's batting rankings, dethroning Pakistan's Babar Azam as the world's No.1 ODI batter.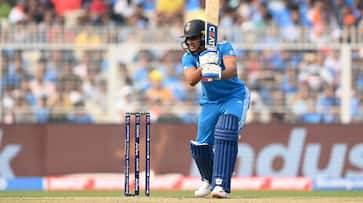 Shubman Gill has brought an end to Babar Azam's over two-year reign as the world's No.1 ODI batter, as per the latest ICC men's batting rankings released on Wednesday. Gill's remarkable performances in the 2023 World Cup catapulted him to the top spot, making him just the fourth Indian cricketer to achieve this feat, joining the ranks of Sachin Tendulkar, MS Dhoni, and Virat Kohli.
Gill, a right-handed batsman, had been in close pursuit of Babar's top ranking for a while. He amassed 92 runs against Sri Lanka and 23 runs against South Africa in the past week, accumulating a total of 219 runs from six innings in the ongoing tournament. Gill had missed India's first two World Cup matches against Australia and Afghanistan due to a bout of dengue fever.
On the other hand, Babar Azam, the Pakistani captain, has accumulated 282 runs from eight innings in the World Cup, which placed him behind Gill in the rankings. Gill currently boasts a rating of 830, followed by Babar with 824, and South Africa's Quinton de Kock with 771.
India had more reasons to celebrate, with the legendary batter Virat Kohli entering the top five in the rankings due to his outstanding performances in the World Cup. Additionally, in the bowler's rankings, Mohammed Siraj ascended to the pinnacle of the list for ODI bowlers, supported by his ten wickets in the World Cup.
The World Cup has seen a significant reshuffling of the top 10 positions in both the batting and bowling ODI rankings, with Indian cricketers making a substantial impact. Kohli advanced three places to secure the fourth spot, coming within one rating point of the third-placed Quinton de Kock, thanks to his impressive total of 543 runs in the World Cup.
Also Read: ODI World Cup 2023: Glenn Maxwell rewrites cricket history with monumental double century in the mega event
Last Updated Nov 8, 2023, 2:51 PM IST