Did Offset break silence on 'saving' his marriage with wife Cardi B? Know details
Offset and Cardi B celebrated their sixth wedding anniversary, navigating through infidelity issues and working on better communication to save their marriage. Offset has opened up on saving his 'marriage' with his wife Cardi B despite his countless infidelities in the recent Call Her Daddy podcast.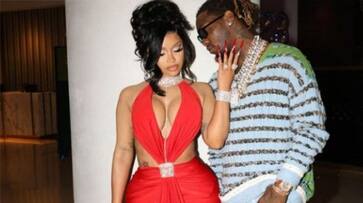 Offset and Cardi B celebrated their sixth wedding anniversary last month, but their relationship has not always been easy. Cardi B, 31, accused Offset, 31, of cheating multiple times, even filing for divorce in 2020, but they got back together. Offset, on the other hand, falsely claimed in June that Cardi was unfaithful but later admitted he lied. Now, Offset is finally opening up and sharing how they saved their marriage and how he gained the trust of his wife, Cardi.
ALSO READ: 'Ganapath': Rajinikanth sends good wishes to Tiger Shroff and team, hopes film gets grand success
During the Call Her Daddy podcast on Wednesday, October 18, Offset says, "First off, by, like, respecting her position, right? We are both public figures. We are both in the eyes of people. Stop being selfish. You are married to this woman. Be dedicated to this woman. And also, just like being more communicative about s**t."
Their problems began in 2018 when Cardi B fought in a strip club, thinking one of the women was involved with Offset. She later faced legal trouble for this. In 2018, Cardi spoke in an interview with Cosmopolitan, "It is like everybody is coming down my neck like Why are you not leaving him? You have low self-esteem. I do not have low self-esteem. I know I look good, I know I am rich, I know I am talented. I know I could get any man I want. Any basketball or football player as well. But I want to work out my s**t with my man, and I do not have to explain why. I am not your property. It is my life. I am going to take my time. I am going to decide on my decision. It is not right. What he f**king did."
Offset now says they have improved their communication. During the Call Her Daddy Interview, Offset shared, "We just talk more. Because our work was getting in the way. Communication is key. If you do not like some s**t t, then tell me. If I do not like some s**t, I will tell you. Not communicating f**ks s**t -up."
Offset added, "I had seen her online. I just loved the way how raw she was and how confident she was. She did not give a f**k what nobody thought, nobody thinks, nothing. And, I was like, damn, that is fire. A funny and great personality. From what I could see. You know what I am saying? Like that is a funny girl, she is a cool girl. And then I shot my shot and swished it."
ALSO READ: Kim Kardashian's daughter suffering from dyslexia? Here's what we know
Last Updated Oct 20, 2023, 12:57 PM IST