Bigg Boss 17 update: Munawar Faruqui tells Mannara Chopra 'Ungli Neechay...'; here's what she said next
Bigg Boss 17: Munawar Faruqui and Mannara Chopra argue as one of their competitors reportedly tries to connect the two. Munawar is in a relationship with Nazila Sitaishi, but his close bond with Mannara in the Bigg Boss house has fans rooting for the duo.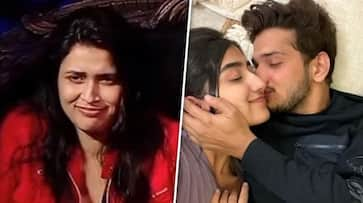 Bigg Boss 17: The duo known to their fans as "MunNara," Munawar Faruqui and Mannara Chopra, appear to be going through a difficult time as they got into an argument with one another after one of their fellow competitors reportedly attempted to set them up inside the Big Brother house. 
Although Munawar and Nazila Sitaishi are in a relationship, fans of the Bigg Boss house support Munawar and Mannara because of their strong friendship. Mannara, on the other hand, does not like that Munawar, who is already in a committed relationship, is associated with her.
Also Read: Leo: Thalapathy Vijay-starrer to release on OTT, here's when and where to watch
In the latest episode, an agitated Mannara told Munawar, "I don't want to be a third wheel in anyone's life. I didn't like that 'bhabhi-bhabhi' thing. It really hit me. I don't want to be linked up with any freaking one here. If Bigg Boss people are trying to set me up… I want if I get work with you after this show then I also get other work opportunities. I felt very awkward."
Munawar then clarified his stance and said, "I'm more worried because I don't want my personal life to get affected by all of this. It's only friendship from my side. It's completely on you whether or not you want to cut off. I don't want a third wheel. Did you ever feel that I have crossed the line with you… Everybody in the house knew about my relationship. When we would talk to each other in the first week, Abhishek (Kumar), Vicky (Jain) and other people would tease us saying, 'Bhabhi (Nazila) slow motion mein dekh rahi hogi.' You might not have noticed it but everybody knew…"
"Yeah maybe I never noticed it," Mannara responded. "I got to know only after the second week when you had told me…" She then pointed her finger towards Munawar and said, "You listen to me first!" To this, Munawar told her, "Ungli neechay rakho (Keep your finger down). We are not fighting. We are having a conversation."
Munawar Faruqui previously broke down in tears on the show and talked about his ex-wife and his 5-year-old son.
Also Read: Dhanush's son Yatra fined Rs 1000 by Chennai Police, here's why
During an emotional exchange with another competitor Neil Bhatt, Munawar disclosed that his kid was now in his legal care and that his ex-wife had recently tied the knot. 
"My ex-wife is married now, and I have custody of my son. He is 5 years old. When he came back to me six months ago after I got the custody, I realised what I was missing. Finally, I have him with me now. I have connected with him so much in the past 3-4 months. I'm missing him. I'm constantly thinking about what he'd be doing at the moment. Now that I'm here, all of this hits me on a very different level altogether," Munawar told Neil Bhatt.
Last Updated Nov 20, 2023, 12:08 PM IST