Animal: Rashmika Mandanna as 'Geetanjali' slays in new poster; teaser to release on THIS date
Rashmika Mandanna's character Geetanjali in 'Animal' revealed in a stunning red and white saree. Teaser releases on Ranbir Kapoor's birthday, film hits theaters on Dec 1, 2023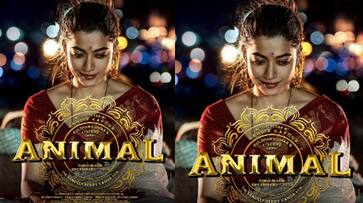 The excitement is building as a new poster from Ranbir Kapoor's upcoming film, "Animal," has just been unveiled, giving fans their first look at Rashmika Mandanna's character. The actress took to her Instagram account to share the poster and reveal her character's name in the film: Geetanjali. In the poster, Rashmika is elegantly draped in a traditional Bengali red and white saree, complete with a mangalsutra, creating a stunning visual.
Sharing the poster on her Instagram handle, Rashmika wrote, "Your Geetanjali. ❤️ #Animal #AnimalTeaserOn28thSept #AnimalTheFilm #AnimalOn1stDec."
This new poster release comes shortly after the release of posters featuring Ranbir Kapoor and Anil Kapoor. Along with the poster, it was announced that the teaser for "Animal" would be released on Ranbir's birthday on 28th September.
Trade analyst Taran Adarsh confirmed this exciting news on his social media accounts, stating, "RANBIR KAPOOR: 'ANIMAL' TEASER DROPS ON 28 SEPT… Team #Animal will unveil #AnimalTeaser on 28 Sept 2023 [#RanbirKapoor's birthday]… Directed by #SandeepReddyVanga, the film arrives in cinemas on 1 Dec 2023. Will release in #Hindi, #Telugu, #Tamil, #Kannada, and #Malayalam. #BhushanKumar #MuradKhetani #AnimalTeaserOn28thSept #AnimalTheFilm #AnimalOn1stDec."
The film's director, Sandeep Reddy Vanga, also shared the news on his social media platforms. In addition to Ranbir and Anil, "Animal" boasts a star-studded cast, including Bobby Deol and Triptii Dimri in pivotal roles.
Originally scheduled for release on August 11th, "Animal" was rescheduled to December due to concerns about maintaining the film's quality. Sandeep Reddy Vanga addressed this decision with fans on social media, saying, "Coming to the topic of why we are unable to release the film on August 11 is because of the quality. It might sound like a generic answer but it's only the quality. I am not going to explain how the post-production work is being layered. To cut it short, I'll give you one example, there are seven songs in the film and when those seven songs are multiplied into five languages, it becomes 35 songs. So 35 songs, different sets of lyricists, different sets of singers, it's going to take a little more than what I actually planned for.
ALSO READ: Singham Again controversy: Bombay High Court alleged Ajay Devgn's film depicts 'dangerous' message to youth
Last Updated Sep 23, 2023, 4:47 PM IST