69th National Film Awards: Ranbir Kapoor's reaction on Alia Bhatt winning National Award is adorable - WATCH
Ranbir Kapoor was recording his wife Alia Bhatt as she received her Best Actress award at the 69th National Film Awards ceremony in Delhi. The video clip of Ranbir recording Alia as she received her National Award went VIRAL on the social media platform Reddit.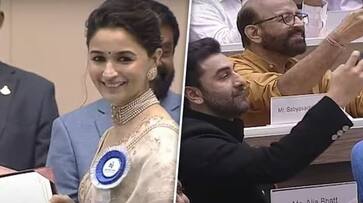 Alia Bhatt accepted the Best Actress award at the National Film Award 2023 ceremony. Actor and husband Ranbir Kapoor was brimming with pride. The 69th National Film Awards ceremony took place on Tuesday in New Delhi. Alia won the Best Actress award for Gangubai Kathiawadi, sharing the honour with Kriti Sanon for Mimi. As Alia Bhatt, she walked up on stage. Ranbir, a doting husband, recorded the most memorable moment of Alia.
ALSO READ: 69th National Film Awards: Alia Bhatt receives best actress; husband Ranbir Kapoor proudly clicks moment
Seated in the audience behind Waheeda Rahman, Ranbir held up his phone. He was video recording Alia. The actress accepted a medal and a certificate from the President of India, Droupadi Murmu. The video of actor and husband Ranbir Kapoor, happy and proud while recording Alia and the actress accepting her award, has gone viral on Reddit.
Alia receiving her National Award
byu/RanaKp inBollyBlindsNGossip
Alia Bhatt opted to wear her wedding saree for the special day. Earlier in the day, Alia Bhatt walked on the red carpet with Ranbir Kapoor by her side. While the host insisted Ranbir join Alia in the interview, an awkward Ranbir slowly moved away from the frame, letting Alia be in the spotlight. Speaking with the host, Alia said, "There is a lot of gratitude in my heart to get the opportunity to portray such a beautiful character, so wonderfully imagined by Sanjay Leela Bhansali. I am really missing him today. He is a person I have always looked up to. I will never stop thanking him for what he has given me."
Fans applauding this moment on Reddit, wrote, "RK recording her with a silly smile on his face like the proud husband that he is." Another added, "RK recording her winning moment to send on the family WhatsApp group. Would love to see it." A third fan raved, "A well-deserved award. Gangubai was by far one of the best performances I have seen. She deserves all the appreciation and love she is getting. Ranbir looks so cute, the proud husband. It is no surprise here how he is the biggest Gangubai fan. He has praised it to the skies."
ALSO READ: 69th National Film Awards: Kriti Sanon talks about 'feeling elated' for winning Best Actress award
Last Updated Oct 17, 2023, 5:38 PM IST