Brinda Karat Exclusive: 'India has to be saved from BJP and RSS'
'India has to be saved from the BJP and the RSS at the Centre and in the state...'

'No political party in India since Independence has been subjected to repression like the Left...'

CPI-M Politburo member Brinda Karat speaks exclusively to Asianet Newsable's Yacoob.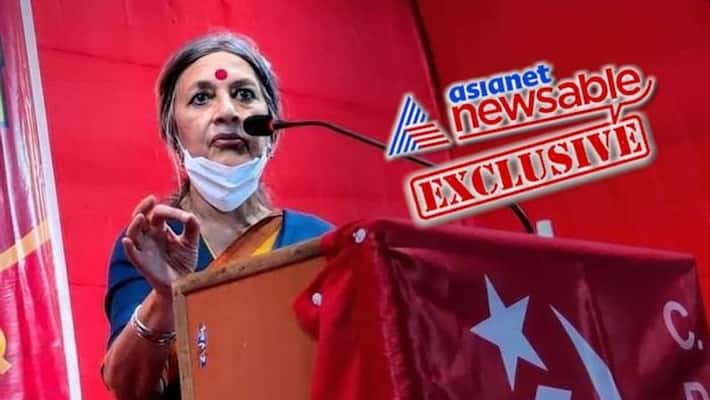 With voting coming to an end in Kerala, what is the sentiment you are picking up from the ground? 
In Kerala, it is very positive. It seems the LDF is going to form the government with the help of the loving people of Kerala. In West Bengal, very dirty tricks are being played by both the BJP and TMC. And it's a tough fight. At present, the way they both are going (campaigning), they want to polarise the state communally. It is a sorry state of affairs. But we are fighting back. We are hopeful that they will be rejected.
BJP claims that the Left and Congress are hypocritical when it comes to political ideology. They say that while in Kerala in Congress and Left are foes, across the Walayar border, they are in alliance. What is your take on this?
The BJP is known for its trickery. BJP is breaking parties and forming the government with people who defected. In Bengal, it is trying to form the government by breaking the Trinamool. So the BJP specializes in breaking parties. Mr (Narendra) Modi and Mr Amit Shah carry a washing machine with them, and all 'Sanghis' are put in that and one swing they pick up scream for Modi and Shah. 
CPI-M does not practice politics of greed. We are very clear. At present, India has to be saved from the BJP and the RSS at the Centre and in the state. In Kerala, Congress chose to be with the BJP. It ran a very bad campaign against the Left, supported BJP. In West Bengal, on the contrary, Congress broke its alliance with TMC realizing that TMC is helping the BJP build its base in Bengal. Therefore, as far as we are concerned -- whether it is in Kerala or Bengal -- our politics is specific.
Can the alliance with the Congress in West Bengal be called a political compulsion? 
The Left has tried to gather all the forces in Bengal against BJP and TMC. I think it is compulsory for every citizen to stand up against the BJP and RSS. And here in Bengal, against the TMC as it has held the BJP and RSS's hand and brought them into Bengal in the first place.
West Bengal once used to be a Left bastion. Now, the political discourse of the state is such that it's hardly considered a serious contender. Even the TMC believes that BJP is their main opposition? Why is this so? Why does the Left find itself in this position in Bengal?
Yes. It is a fact that we are in a big fight in Bengal. I think those who are outside Bengal should know that no political party in India since Independence has been subjected to repression like the Left. In particular, CPI-M from 2011 in Bengal. We have lost hundreds of caders in brutal killings. We are facing about 1 lakh false cases in Bengal; we have faced convictions. More than 20,000 of our supporters have to leave their homes. There is extortion. The supporters have lost jobs. So the kind of repression that CPI-M and Left in general face in Bengal has been unprecedented. While the Mamata government was targeting the Left, they were helping BJP and RSS. So there has been a witch-hunt against Communism in Bengal. We have withstood this, and we are standing tall. We hope they (BJP-TMC) will lose in these elections.
What are the issues that you have been raising in the election campaign?
The restoration of democracy, the sense of the constitution and secularism and people's (address) dissatisfaction, including employment and (improve) education.
Do you believe national issues like the CAA and farm laws resonate among voters in West Bengal?
The BJP is totally hypocritical, and TMC is artificial. The Left is very clear. We are against CAA and NRC, and we will ensure that these will not be (come into effect) in Bengal.
The West Bengal election campaign, experts say, has been one of the most polarising ever. What is your take on this?
It is a fact that BJP and RSS have been running an extremely communal campaign. Because of its highly opportunistic stand and lack of principle, the Mamata Banerjee government has succumbed to it and playing the same game.
Mamata has once again called for creating a front against the BJP. Similar efforts in the past have fizzled out. Will the left front join the new initiative? 
It's total hypocrisy. April Fool comes once a year. You can't have April Fool every day of the year.
Last Updated Apr 13, 2021, 7:29 AM IST