Viral video: Ugly brawl mars cricket match in Pakistan as teammates hammer each other with bats (WATCH)
Amid Pakistan's disappointing ODI World Cup 2023 performance, a disturbing video from the nation has emerged from a local cricket match, revealing an on-field clash between batsmen over a runout.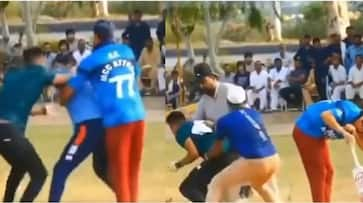 In the midst of Pakistan's underwhelming performance in the ODI World Cup 2023, a disturbing video has emerged from a local cricket match, showcasing a shocking on-field conflict between two players. 
The video from the local match in Pakistan captures a disagreement over a runout, escalating into a physical altercation between two batsmen. The conflict originates when the striker misses a ball, and the non-striker attempts to score without waiting for the striker's signal. Despite the striker's objection, the non-striker proceeds, resulting in a runout and his exit from the field.
Also read: 'Had a slip of tongue': Abdul Razzak apologises for derogatory comments on Aishwarya Rai (WATCH)
As the non-striker walks towards the pavilion, tensions flare, and the striker becomes visibly enraged. A heated altercation ensues, with the striker chasing the non-striker wielding a bat. Regrettably, a third player intervening in the brawl also sustains injuries.
The viral video has generated widespread astonishment, and as of now, details regarding the location in Pakistan and the specific tournament remain undisclosed. The incident has left cricket enthusiasts puzzled, questioning why such a distressing situation unfolded in the typically gentlemanly sport.
The alarming incident in the local cricket match serves as a stark reminder of the emotional intensity that can arise in competitive sports. It also prompts reflection on the need for sportsmanship and conflict resolution, even in the most grassroots levels of the game.
Also read: Inzamam-ul-Haq's old video claiming Harbhajan Singh's interest in Islam resurfaces; sparks netizens' curiosity
Last Updated Nov 15, 2023, 10:54 AM IST