'Had a slip of tongue': Abdul Razzak apologises for derogatory comments on Aishwarya Rai (WATCH)
Former Pakistani cricketer Abdul Razzaq apologises for inappropriate comments involving Aishwarya Rai during a press conference on the ODI World Cup 2023.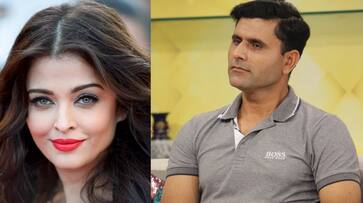 Former Pakistani all-rounder Abdul Razzaq has issued an apology following his derogatory comments about Bollywood actress Aishwarya Rai during a press conference discussing Pakistan's performance in the ODI World Cup 2023. The controversial remarks sparked outrage on social media, prompting Razzaq to publicly express regret for his inappropriate comments.
In his apology, Abdul Razzaq clarified that his comments were a result of a slip of the tongue. He admitted that he intended to refer to something else but inadvertently mentioned Aishwarya Rai's name. Razzaq expressed remorse for the unintended reference and extended an apology to the Bollywood actress. He clarified that it was not his intention to involve Aishwarya Rai in the discussion and acknowledged the mistake.
Also read: Inzamam-ul-Haq's old video claiming Harbhajan Singh's interest in Islam resurfaces; sparks netizens' curiosity
"At a press conference, we were talking about cricket, coaching and intention and I had a slip of tongue. I wanted to refer to something else but accidently Aishwarya Rai's name came to my mouth. I want to apologise and say sorry to her. It was not my intention. I wanted to give another example, but this came out. I really apologise," he said his apology.
During the press conference, Abdul Razzaq criticized the Pakistan Cricket Board (PCB) for the team's below-par performance in the ODI World Cup 2023. In a bizarre turn of events, he dragged Aishwarya Rai into his criticism, making a derogatory remark about her marriage and implying that good and pious children would not be born from it.
Questioning the intentions of the PCB, he dragged the actress into his criticism and said, "If you think that by marrying Aishwarya (Rai), good and pious kids will be born, it would never happen. So you have to correct your intentions first."
"Younis Khan had good intentions as a captain and gave me confidence to perform better. Everyone over here is talking about the intention of the Pakistan's team. We (PCB) don't have the intention to develop and polish the players in Pakistan," he said before drawing parallels with the Bollywood actress.
Also read: Shoaib Akhtar slams Abdul Razzaq's 'Aishwarya Rai' remark and former Pakistan stars for applause
Razzaq's former teammates Shahid Afridi and Umar Gul, who were present during the media briefing, did not intervene or condemn the inappropriate comments. Instead, they seemed to enjoy the remarks, clapping in response.
The comments made by Abdul Razzaq sparked a massive controversy on social media, with fans and followers expressing disappointment and anger over the inappropriate reference to Aishwarya Rai. Many called for accountability and condemned the lack of intervention from his fellow players during the press conference.
Last Updated Nov 15, 2023, 10:05 AM IST