ODI World Cup 2023: Virat Kohli achieves two unique records in the final against Australia on a rough surface
Indian batter Virat Kohli has struck two records in the final match of the ODI World Cup 2023 against Australia. The 35-year-old has continued his fine form and struck a 50+ score thus adding crucial runs in the total of the Indian batting lineup.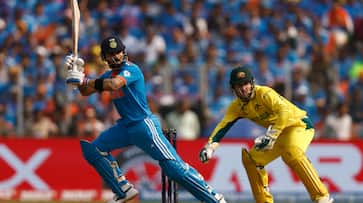 The Indian cricket team has played disappointing cricket throughout the first inning of the ODI World Cup 2023. However, Indian legend Virat Kohli tried his best to stay at the crease for longer and add some crucial runs. He smashed a needful half-century against Australia.  
Virat Kohli arrived at the crease when India was in a good position. Rohit Sharma enforced a fine start and India was playing at 76 runs in the 10th over. However, things went downwards quickly as the men in blue lost consecutive wickets, and Virat Kohli had to play carefully in the middle.
The Indian batter continued his classy form and smashed a half century giving crucial runs to the lineup. He put up two records against Australia on Sunday. Virat Kohli smashed five consecutive 50+ scores for the second time. This unique achievement has shown the quality of the batter. 
Virat Kohli also became the seventh batter to smash 50+ scores in the semi-final and final. The Indian batter has been on the fine list of form and has already scored 700+ runs in the ODI World Cup 2023. He is the first batter to do so in the history of the tournament.
However, the Indian cricket team has played disappointing cricket which has put out a negative momentum on the Indian side. The other Indian batters struggled to keep up the scoreboard ticking. The Australian bowlers were on the spot with the slow Ahmedabad surface.
Last Updated Nov 19, 2023, 5:58 PM IST