Former Pakistan cricketer Danish Kaneria performing puja on Ashtami, celebrating Navratri goes viral (WATCH)
Amid the ongoing Navratri and Durga Puja festivities, videos of former Pakistani cricketer Danish Kaneria performing puja on Ashtami and participating in Garba dance has gone viral on X, with most users asking if this took place in Pakistani.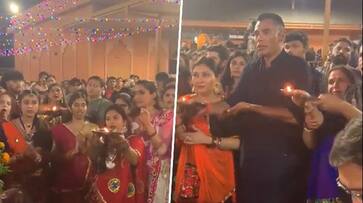 In a world where diversity is celebrated and traditions vary from one region to another, former Pakistani spin bowler Danish Kaneria's unwavering devotion to his faith and his homage to the Goddess on the occasion of Ashtami exemplify the power of belief. Kaneria, once a prominent figure in the Pakistan cricket team, stood out not just for his cricketing skills but also for his strong connection to his Hindu faith. In a predominantly Muslim country like Pakistan, Kaneria's unwavering devotion to his Hindu religion has been a subject of curiosity and respect.
Ashtami, a significant day in Hinduism, is dedicated to the worship of Mata Rani, a revered Hindu goddess. On this auspicious occasion, Danish Kaneria, living in Pakistan, exhibited his devotion by worshipping Mata Rani. His act of faith serves as a reminder that faith knows no boundaries or borders.
Kaneria also recently took part in the Garba celebration and extended his warm wishes for a Happy Navratri to everyone. The former Pakistani cricketer also expressed his prayers for the well-being of all. "Delighted to participate in the energetic Garba celebration on the auspicious occasion of Navratri. I pray to Maa Jagdambe for everyone's well-being," wrote the former cricketer in a post shared on X. The video has garnered significant attention, with fans asking questions about its location in Pakistan.
"Where was this? Pakistan?" wrote one user on Twitter in response to the video shared by Kaneria, while another X user added, "Is this safe in Pakistan?"
A third X user noted, "Is this Pakistan or else where?" while a fourth noted, "The only Hindu in Pakistan is Danish Kaneria who has 56 inch chest."
"Delighted to see you partake in the vibrant Garba celebration during this auspicious Navratri season. May Maa Jagdambe's blessings bring well-being to everyone," said another user."
"I pray to Maa for your safety too!" wished another X user.
It's worth noting that Danish Kaneria faced challenges and controversy during his cricket career, largely due to his faith. Despite the hurdles, he remained steadfast in his beliefs and continued to practice his religion. This resilience serves as an inspiration to others facing similar challenges, encouraging them to hold onto their faith and identity.
Navratri is a nine-day Hindu festival observed in the autumn season each year. It's a celebration dedicated to the divine feminine, with each day dedicated to a different form of the goddess Durga. The festival involves fasting, prayer, and feasting.
The significance of Navratri is rooted in the celebration of the goddess Durga, who embodies Shakti, the divine feminine power. The festival involves the worship of nine different forms of Durga, each representing distinct aspects of the feminine principle, including creation, preservation, and destruction.
Last Updated Oct 23, 2023, 12:22 PM IST