Yuvraj Singh's heartfelt birthday wishes to Virat Kohli
Yuvraj Singh, the former Indian cricket all-rounder, extends warm birthday wishes to Indian cricket stalwart Virat Kohli with a touching tribute.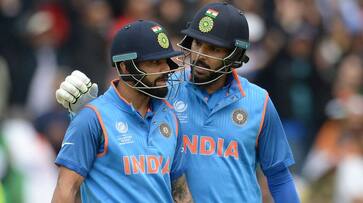 Former all-rounder Yuvraj Singh, who was part of the Indian team that clinched the ICC World Cup in 2011 alongside Virat Kohli, took to social media to convey his birthday wishes to the Indian cricket sensation. As Virat Kohli marked his 35th birthday, he was in action for India against South Africa in a World Cup match. Yuvraj Singh, who had shared the Team India dressing room with Kohli for a number of years, posted an emotional message, expressing his hopes for Kohli to continue breaking records in the future.
"Happy Birthday #KingKohli @imVkohli," Yuvraj shared on X (formerly Twitter).
"When you joined the team as a young and eager talent, driven by a hunger to excel, it was evident to all that your path was destined for greatness. You haven't just etched your name in the annals of cricket but have also been an inspiration for countless others striving for excellence.
"As you celebrate another year, filled with record-breaking and setting, take a moment to contemplate all that you've accomplished. I take pride in having been part of this remarkable journey with you, witnessing your unwavering growth.
"May your unwavering passion and relentless determination propel you and the Indian team to new heights in the World Cup, bringing honor to our nation once again.
On the occasion of Virat Kohli's birthday, the Cricket Association of Bengal (CAB) President, Snehasish Ganguly, announced a special memento to be presented to the cricket star during the game on his birthday.
Speaking to ANI, the CAB President discussed the ticket sales for the match, highlighting the high demand for them.
Regarding the preparations for Virat Kohli's birthday, Snehasish Ganguly mentioned that a special cake has been prepared for the ace cricketer, and there will be post-match fireworks, along with light and sound shows.
"The demand for tickets is very high. We are fully prepared for the match. We have organized some programs during the match. Virat Kohli will be presented with a small memento, and we have prepared a special cake for him. There will be fireworks after the match and light and sound shows," said the CAB President.
Also Read: ODI World Cup 2023: Sri Lanka vs Bangladesh clash under threat due to Delhi's severe air pollution
Last Updated Nov 5, 2023, 2:39 PM IST