ODI World Cup 2023: Sri Lanka vs Bangladesh clash under threat due to Delhi's severe air pollution
The Sri Lanka vs Bangladesh World Cup match hangs in the balance as severe air pollution in Delhi raises concerns about player health and match uncertainty.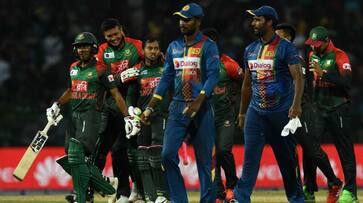 The Sri Lanka vs Bangladesh World Cup match faces uncertainty due to severe air pollution in Delhi. It's unclear whether player health will take precedence over the contest scheduled for Monday. The national capital is once again engulfed in a thick layer of toxic haze, leading both teams to cancel training sessions due to the Air Quality Index (AQI) remaining in the severe category. The AQI has consistently been above the 400-mark since Thursday, and it is expected to remain 'severe' until Tuesday, with a Sunday morning reading of 457 according to the Central Pollution Control Board (CPCB).
The International Cricket Council (ICC) has emphasised that a decision regarding the match's fate will be made on the day of the game after match officials assess the air quality. The ICC's playing conditions, as per Article 2.8, empower umpires to suspend or not allow play based on safety concerns.
Both teams are no strangers to such situations, with Sri Lankan players resorting to masks during a Test series in 2017, and Bangladesh cricketers doing the same in a T20 match in 2019, with some players experiencing respiratory issues. Bangladesh is already out of contention, while Sri Lanka's semifinal hopes are slim, relying more on mathematical possibilities than performance.
Bangladesh, ranked ninth out of 10 teams, plays for pride, while Sri Lanka, seventh in the standings, aims to secure a place in the 2025 Champions Trophy in Pakistan. Sri Lanka has a dominant record against Bangladesh in ODIs, but the Tigers drew inspiration from a warm-up game victory against the Islanders at the World Cup.
Sri Lanka comes into the match after a disastrous loss to India, with their batting lineup being decimated, and they need to bounce back. Injuries and inconsistent performances have plagued them, and Bangladesh will need an outstanding performance to capitalise on Sri Lanka's weaknesses.
Sadeera Samarawickrama has been a standout player for Sri Lanka, while Pathum Nissanka and skipper Kusal Mendis have contributed in batting. However, their bowling has been inconsistent due to the absence of key spinners. Bangladesh's campaign has been forgettable, with just one win against Afghanistan. Their players' form and lack of partnerships have led to a series of losses, making them the first team to be eliminated from the World Cup after a defeat to Pakistan.
Also Read: India vs South Africa: AB de Villiers wishing Virat Kohli on his birthday with warm hug goes viral (WATCH)
Last Updated Nov 5, 2023, 2:14 PM IST