Mumbai and Delhi Police engage in playful banter over Mohammed Shami's heroics in World Cup 2023 semi-final
A lively exchange unfolded on social media between Mumbai and Delhi police following Mohammed Shami's standout performance in the ICC Cricket World Cup 2023 semi-final.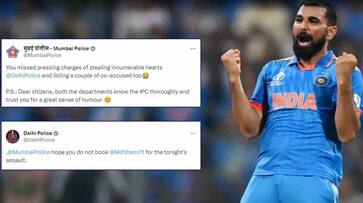 On Wednesday, the social media accounts of Mumbai and Delhi police were ablaze with playful banter on X (formerly Twitter), sparked by Mohammad Shami's remarkable performance in the India vs New Zealand ICC Cricket World Cup 2023 semi-final match.
The banter began when Delhi Police's X account took the first shot, humorously tweeting, "@MumbaiPolice hope you do not book @MdShami11 for tonight's assault." Mumbai Police's X account responded swiftly, saying, "You missed pressing charges of stealing innumerable hearts @DelhiPolice and listing a couple of co-accused too," in a sarcastic tone.
Special Commissioner Mumbai, Deven Bharti, joined the conversation, stating, "Not at all @DelhiPolice. It qualifies for protection under the 'Right of Self Defence.'" Shami's outstanding seven-wicket haul in the CWC 2023 knockout game marked a historic moment, making him the first Indian bowler in a One Day International (ODI) cricket match to achieve this feat. Fans celebrated the "Stuff of Dreams" as Mohammed Shami powered India into the ICC Cricket World Cup 2023 Final.
Last Updated Nov 16, 2023, 12:49 AM IST