Asia Cup 2023: India vs Pakistan match gets reserve day amid weather concerns
The India vs Pakistan Super Four clash in the Asia Cup will now feature a reserve day, alongside the final, to accommodate potential weather disruptions. The decision, announced by the Pakistan Cricket Board (PCB), comes in response to the persistent rain challenges faced during the tournament.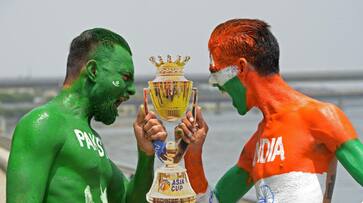 The India vs Pakistan Super Four clash in the Asia Cup now includes a reserve day, a departure from the previous playing conditions that only allocated a reserve day for the final match scheduled for September 17. The Pakistan Cricket Board (PCB) has introduced a reserve day for the India vs Pakistan Super Four encounter set for September 10, making it the sole match, besides the final, to feature this provision. In light of these changes, the PCB has advised spectators to retain their tickets in case the reserve day becomes necessary.
For both matches where a reserve day has been designated, organizers will strive to complete the game on the originally scheduled day, even if it entails shortening the duration of the contest. If the reserve day is activated, the match duration will mirror that of the last ball bowled on day one.
Notably, rain disrupted the initial India vs Pakistan clash in Pallekele during this Asia Cup, resulting in a washout. Subsequently, rain also made an appearance during India's initial encounter against Nepal at the same venue. However, it was less persistent on that occasion, allowing India to chase a target in a 23-over contest, which they successfully accomplished to advance to the Super Four stage.
Considering the lingering threat of rain in Colombo for the upcoming week, the PCB, serving as the official tournament hosts, initially contemplated relocating the Colombo matches to Hambantota. Ultimately, the Asian Cricket Council (ACC) communicated to stakeholders that the matches would proceed as originally scheduled in Colombo.
While the PCB reluctantly consented to this decision, they did express their reservations by sending a letter to ACC President Jay Shah, citing concerns over the decision-making process.
As the India vs Pakistan match on Sunday also faces a potential rain threat, with a substantial 90% chance of precipitation, there is hope for the return of India's premier bowler, Jasprit Bumrah. Bumrah, who had recently recovered from a persistent back injury, has yet to bowl in an ODI ahead of the upcoming World Cup next month. He did make his ODI comeback in the recent Pakistan game but was unable to take the field as rain prevented Pakistan from beginning their innings.
Also Read: Asia Cup 2023: Bumrah's return adds firepower to Indian side ahead of the Super 4 showdown against Pakistan
Last Updated Sep 8, 2023, 2:23 PM IST