WATCH: Dramatic videos of massive earthquake in Morocco go viral; leaves internet users terrified
At least 296 people were killed in a massive earthquake that hit Morocco on late Friday (September 8), according to the country's Interior Ministry. Videos of the people screaming were posted by the tourists and others.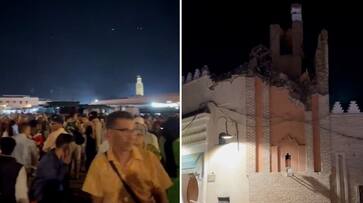 A powerful earthquake that struck Morocco late Friday night killed at least 296 people, the country's Interior Ministry said. Videos depicting destroyed structures and damaged portions of the renowned red walls that encircle the old city in mediaeval Marrakech, a UNESCO World Heritage site, were shared online by Moroccans.
About 70 kilometres south of Marrakech, high in the Atlas Mountains, was where the Friday tremor's epicentre was located. It was also close to Oukaimeden, a well-known Moroccan ski resort, and Toubkal, the highest peak in North Africa.
Also Read | Nearly 300 dead as powerful 6.8 magnitude earthquake strikes Morocco, PM Modi offers condolences
Several buildings and historic landmarks in major cities were damaged and numerous others were toppled in the powerful earthquake which, according to Morocco's geophysical centre, struck in the Ighil area of the High Atlas with a magnitude of 7.2. The U.S. Geological Survey read the quake's magnitude at 6.8 on Ritcher scale and said it was at a relatively shallow depth of 18.5 km. 
Also Read | Spain's President Pedro Sanchez tests positive for COVID-19, to miss G20 Summit in Delhi
Last Updated Sep 9, 2023, 9:57 AM IST