Unusual! Visitors must squeeze between nude models to enter Marina Abramovic's art exhibition in London
The article discusses the unique entrance experience at the upcoming Marina Abramovic exhibition at the Royal Academy of Arts, featuring two nude models and the exhibition's mixed critical reception.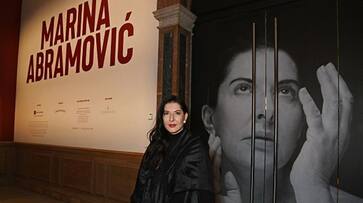 The upcoming Royal Academy of Arts exhibition in London is set to feature a unique entrance experience. Visitors will encounter two nude models, one male and one female, blocking their way. The only access to the forthcoming Marina Abramovic exhibition is through a narrow gap between the two naked performers, as reported by the Telegraph.
Andrea Tarsia, the head of exhibitions at the Royal Academy, explained, "The performance, called Imponderabilia, forces a confrontation between nakedness and gender, sexuality, and desire."
For those who may feel uncomfortable with this entrance arrangement, there is an alternative entrance provided.
The exhibition, running from September 23, 2023, to January 1, 2024, offers a retrospective of the artist's 50-year career, featuring sculptures, videos, installations, and performances. Notable works such as "The Artist is Present" will be reimagined using archive footage, while others will be performed by the next generation of artists trained in the Marina Abramovic method.
However, the exhibition has garnered mixed reviews from critics. While the Guardian praised it as "vital," the Times described it as "remorseless."
For Marina Abramovic, this exhibition holds the potential for transformation. Visitors can experience this firsthand through performances like "Imponderabilia," "Nude with Skeleton," "Luminosity," and "The House with the Ocean View," as highlighted by the Royal Academy of Arts.
One of the exhibition's striking pieces is "Luminosity," where a nude woman is suspended on the wall in a crucifix pose while seated on a bicycle saddle, as reported by the Telegraph.
Last Updated Sep 21, 2023, 3:09 PM IST