'Traitor Trudeau': Now, Canadian PM faces heat for supporting Ukraine; protest video goes viral - WATCH
Canadian Prime Minister Justin Trudeau faces protests from citizens for supporting Ukraine amid allegations and controversies around inaction against Khalistani elements, including a recent poll indicating a decline in his popularity.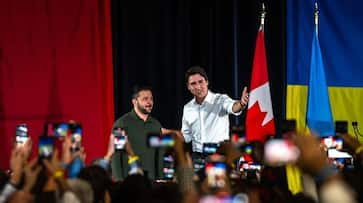 Canadian Prime Minister Justin Trudeau, who has been under fire for his allegation of India's involvement in the killing of Khalistani terrorist Hardeep Singh Nijjar, is now facing the heat from Canadian citizens for announcing a comprehensive package of support measures for Ukraine, spanning military, economic, humanitarian aid, and diplomatic initiatives aimed at penalizing Russia for its actions in the war.
"We're continuing to impose costs on Russia and ensuring that those responsible for this illegal, unjustifiable invasion do not benefit from it," Trudeau said during a joint news conference with Ukrainian President Volodymyr Zelenskyy in Ottawa, the Canadian capital.
The Ukraine President also addressed Canada's Parliament on Friday. Zelenskyy flew into Ottawa late Thursday after meetings with US President Joe Biden and lawmakers in Washington. He spoke at the UN General Assembly on Wednesday.
In a video that has now gone viral, a group of protesters irked with the aid provided to Ukraine were seen calling Trudeau a 'traitor' as the Canadian PM and Zelenskyy leave the Royal York Hotel. Meanwhile, the war-torn country's President was hurled with 'get out of our country' slurs as captured in the video.
In collaboration with G7 partners, Canada and Ukraine have agreed to establish a working group to explore the seizure and forfeiture of Russian assets, including those from the Russian Central Bank.
Canada has also expanded its sanctions list to include 63 Russian individuals and entities, specifically targeting those involved in actions such as the kidnapping of children and the dissemination of disinformation.
As part of its support, Canada has pledged $650 million in new military assistance over the next three years. This assistance includes providing Ukraine with 50 armored vehicles, including armored medical evacuation vehicles manufactured in Ontario. It also encompasses the provision of pilot and maintenance instructors for F-16 fighter jets, support for Leopard 2 battle tank maintenance, 35 drones equipped with high-resolution cameras, light vehicles, and ammunition. Additionally, Canada will financially contribute to a UK-led consortium delivering air defense equipment to Ukraine, with ongoing monetary support through the 2024 fiscal year.
Furthermore, Canada will extend support to non-governmental organizations and Ukraine's government, focusing on enhancing cyber resilience, rebuilding local infrastructure, and aiding farmers. The country also plans to allocate funds for Ukraine's national war memorial and bolster mental health support resources when needed.
Trudeau emphasized unity in defense of democracy and strong condemnation of Russian President Vladimir Putin's unwarranted invasion of Ukraine. The two nations are standing together in their commitment to addressing this crisis. "We stand here absolutely united in our defence of democracy and our condemnation of (Russian President) Vladimir Putin's unprovoked, unjustified and unconscionable invasion of Ukraine," Trudeau said.
The latest protests in Canada against Trudeau's support to Ukraine comes even as accusations of him being soft and non-committal about acting against the Khalistani elements continues to gather steam back in India. Meanwhile, a recent poll indicated that the Canadian PM is losing popularity among voters.
According to an Ipsos poll, 40 percent of Canadians express a preference for opposition leader Pierre Poilievre, a Conservative, to become the Prime Minister. If elections were held today, the survey indicates that Poilievre's Conservatives would secure 39 percent of the vote, while Justin Trudeau, the leader of the Liberal Party and the incumbent Prime Minister since his election in 2015, would receive 30 percent of the votes, as reported by Canada's Global News.
If elections were held at this time, the poll indicates that the Conservatives would secure a majority government, displacing the Trudeau-led Liberal minority administration. Canada is set to hold its next election in the fall of 2025.
In July, another survey revealed that Trudeau was regarded as the worst Prime Minister in over 50 years. Interestingly, his father, Pierre Trudeau, who served as Prime Minister from 1968 to 1979 and from 1980 to 1984, enjoyed popularity among Canadian voters, as reported by CTV News.
Last Updated Sep 24, 2023, 2:12 PM IST