'They are burning us': Chilling texts of Israeli-American family before being killed by Hamas
The article recounts the tragic story of an Israeli-American family killed by Hamas, highlighting their final text messages amid the ongoing Gaza conflict.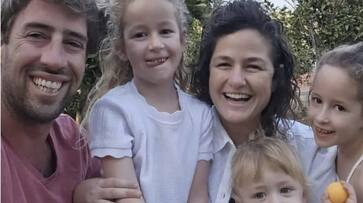 Tragic and heart-wrenching final text messages sent by an Israeli-American family have surfaced online, revealing the devastating fate they met at the hands of Hamas. According to reports from the New York Post, Yonatan Kedem Siman Tov, his wife Tamar Kedem-Siman Tov, and their three young children - 6-year-old twin girls Shahar and Arbel, and 4-year-old son Omer, along with Yonatan's 70-year-old mother, Carol Siman Tov, were all killed at the Nir Oz kibbutz located outside of Gaza.
As the conflict escalated, the family initially sought refuge in a safe room when Hamas rockets began landing in their vicinity. In an attempt to reassure friends and relatives of their safety, they sent text messages. Tamar conveyed to her friends on WhatsApp, saying, ''Hi guys, we got into the shelter in our house, we're all going okay.''
Also read: 'Hamas stopping us': Gaza resident's distressing phone call with Israeli officer amid evacuation (LISTEN)
Tragically, an hour later, Hamas militants entered the safe room and opened fire on the family.
"They're here. They're burning us. We're suffocating," Yonatan Kedem Siman Tov texted his sister, Ranae Butler, moments before they met their tragic end.
The messages abruptly ceased, underscoring the devastating outcome of this heart-wrenching incident.
A close family friend, Yishai Lacob, expressed the collective grief on Facebook, stating, ''Our hearts are shattered. An entire family was killed by evil murderers who shot the children and parents simply because they were Jewish. And this is just one story, among so many. It's unbearable.''
Yonatan Siman Tov, a wheat farmer, and Tamar Kedem-Siman Tov, a community leader who aspired to become the head of the Eshkol Regional Council, were known for their commitment to their community and public service. Tamar also held a role as an advisor to the Ministry of the Interior on regional issues and had previously served as the director of the Bikurim Youth Village for Excellence in Art and Music, a boarding school for at-risk youth.
Also read: Thousands of Israeli soldiers gear up for ground operation in Gaza amid calls for civilian relocation (WATCH)
This tragic loss comes in the wake of escalating tensions and violence in the region. The conflict erupted after Hamas launched a surprise attack on Israel on October 7, initiating a barrage of rockets into southern Israel. In the eight days since Hamas gunmen carried out a terror attack, claiming the lives of more than 1,300 Israelis, Israel has responded with a devastating bombing campaign, resulting in over 2,300 casualties in Gaza.
Meanwhile, amid the ongoing conflict, the Israeli military has opened a safe corridor in northern Gaza to enable residents to relocate to the "safer" southern region of the coastal territory, providing a glimmer of hope for those affected by the violence. In a statement, the Israel Defence Forces (IDF) assured that there would be no military operations along this route from 10 a.m. to 1 p.m., emphasizing the importance of ensuring the safety of civilians during these challenging times.
Last Updated Oct 15, 2023, 6:05 PM IST