Shocking! UK cop's rude behaviour with Hindu priest during Ganesh Chaturthi in Leicester goes viral - WATCH
A viral video depicts a UK police officer's rude behavior towards an elderly Hindu priest during Ganesh Chaturthi celebrations in Leicester, raising concerns about community tensions and official response.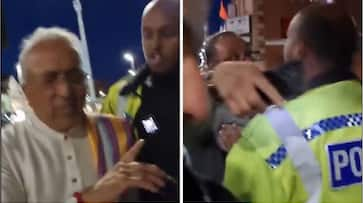 A shocking incident has surfaced in Leicester, UK, where a police officer was captured on video behaving rudely towards an elderly Hindu priest of Indian origin during the Ganesh Chaturthi celebrations on September 19. The incident gained widespread attention after a video depicting the officer's disrespectful conduct towards the priest went viral on social media.
INSIGHT UK, a community group based in the UK, shared the video of the incident on its X (formerly Twitter) handle. The group identified the officer involved as Adam Ahmed and condemned his actions, describing them as "completely unacceptable behaviour from Officer Adam Ahmed." The video was shared along with this strong statement.
As of now, there has been no official statement from the Leicester administration regarding any action taken against the officer in question. However, the video clearly shows the officer mishandling the elderly Hindu priest and engaging in a confrontation with another person of Indian origin (PIO) who intervenes to protect the priest. Despite the officer's behaviour, he does not heed the advice of a woman who attempts to make him understand the situation.
Leicester had made headlines in September of the previous year due to clashes between local Hindu and Muslim groups. Videos had circulated showing members of both communities involved in street brawls and physical altercations. The police had to intervene to de-escalate the situation.
Following the confrontations, the local administration made efforts to foster an environment of trust between the two communities. Meetings were held between members of both groups and the administration to ensure that tensions did not escalate further. The incident with the police officer now raises concerns about the ongoing efforts to maintain harmony and understanding in the Leicester community.
Last Updated Sep 20, 2023, 12:05 PM IST