Shocking! London shopkeeper grabs woman by throat after altercation; controversial video goes viral - WATCH
A shopkeeper in Peckham, London, is questioned by police after a viral video of an altercation with a black woman sparks protests, with the shopkeeper defending his actions as the video being taken out of context.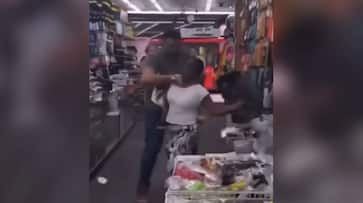 A 45-year-old shopkeeper residing in Peckham, located in south-east London, found himself under police scrutiny after a video capturing a heated altercation at his shop went viral on the internet, igniting local protests. The video, recorded on a Monday, depicted a black woman striking a man with a shopping basket while he appeared to have his hands around her throat.
This footage stirred considerable outrage among the community, with many condemning the man's actions. Currently, the man has undergone a police interview under caution, indicating that he hasn't been arrested but remains a subject of investigation. The woman involved has also been interviewed by law enforcement. No arrests have been made thus far as the police continue to investigate the incident.
According to reports from the BBC, hundreds of individuals gathered to protest outside Peckham Hair and Cosmetics on Tuesday, located on Rye Lane. The woman had been accused of theft in connection with the store. During the protest, chants of "you touch one, you touch all" echoed, and signs bearing the message "keep your hands off black women" were prominently displayed.
In response to the controversy, the shopkeeper asserted that the viral video had presented a misleading perspective, lacking the full context of the situation. He explained that the footage circulating on social media had been "cropped," failing to capture the complete incident. As of now, the shop remains closed and secured.
In an interview with the BBC, the shopkeeper recounted that the conflict arose when the woman became confrontational after being denied a refund for products she had previously purchased at the store. He clarified the store's policy, stating that they do not issue refunds but instead offer exchanges or credit notes. The dispute escalated when the woman attempted to leave with items from the store, valued at a total of £24.
The shopkeeper, in an attempt to prevent her from leaving, recounted that he was struck in the face by the woman, who had also seized a shopping basket and used it to hit him on the head. 
"We do not give refunds; we exchange items or give a credit note. So she grabbed some stuff [three packs of hair with a total value of 24 pounds] from the shelf and tried to leave. She was leaving, and I was stopping her," he said.
"I was stopping her. She slapped me in the face, grabbed a shopping basket, and hit me on the head. I don't know when my hand goes around her neck. I was keeping her neutralised. I did not hit her. The video was cropped. People are acting on the half truth," he added.
Last Updated Sep 13, 2023, 9:18 PM IST