Life-changing lottery for elderly UK woman: Rs 10 lakh monthly payout for next 30 years!
Doris Stanbridge, 70, hit the jackpot after she correctly matched all the winning numbers in the Set for Life Lottery. She will receive approx. Rs 10 lakh per month for 30 years.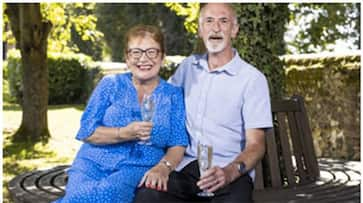 An elderly woman from Dorking, England, recently won the Set For Life lottery. On August 3, Doris Stanbridge, 70, correctly matched all the winning numbers: 2, 11, 17, 30, 38, and the Life Ball 3. Even more exciting is the fact that she will get 10,000 pounds every month for the next 30 years (or roughly Rs. 10.37 lakh).
Everything began when Stanbridge and her three daughters were at her house. She decided to buy a Set For Life ticket via the app after discovering some money spiders around her house and garden, according to the National Lottery. Money spiders are a particular species of spider that may be found in the UK. According to superstition, if you find a money spider on you or in your hair, you'll get new clothes and money.
Stanbridge, who was aware of the superstition, bought a Set for Life ticket using the Lottery's mobile app.
"We had my 70th birthday party, so we had been busy. I saw an email from The National Lottery. I logged on to the App, thinking I had won £10, and then saw, 'Congratulations, you've won £10K Thousand a month for 30 years'. I told Keith [Doris' husband], 'Have I read that right? Does that say what I think it says? No, it can't be!'," Stanbridge told the National Lottery.
Stanbridge and her husband bought a new bed and an air fryer with the money. Along with that, they travelled to Cornwall for a family vacation. They also have plans to refurbish the house they have lived in for the previous 50 years. They might even treat themselves to a trip with their family.
The British equivalent of Powerball is called the National Lottery Set For Life Game. To win £10,000 (US$12,465) per month for the following 30 years, players must correctly predict five numbers in addition to the "Life Ball."
 
Last Updated Sep 12, 2023, 5:00 PM IST