India-Canada row: Lankan Minister backs New Delhi, says 'Terrorists found safe haven in Canada'
Sri Lankan Foreign Minister Ali Sabry on Monday, reacting to the India-Canada diplomatic row, said terrorists have found safe haven in Canada and their Prime Minister Justin Trudeau came out with the outrageous allegations without any proof.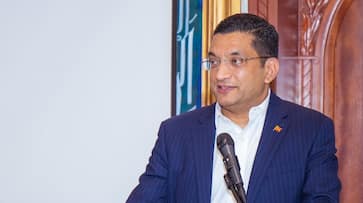 In response to the diplomatic dispute between India and Canada, Sri Lanka's Foreign Minister Ali Sabry stated on Monday that terrorists have sought refuge in Canada and that Justin Trudeau, the country's prime minister, has made outlandish claims without any supporting evidence.
Speaking to media, Sabry said he is "not surprised" by his remarks since Trudeau keeps making "outrageous and substantiated allegations."
"Canada has become a refuge for certain terrorists. The Canadian prime minister has a habit of making absurd claims without any backing evidence The same thing they did for Sri Lanka, a terrible, total lie about saying that Sri Lanka had a genocide. Everybody knows there was no genocide in our country," he said.
Taking a dig at Trudeau for honouring a former Nazi soldier in Canada's parliament, he said, "I observed yesterday he had gone and given a hearty welcome to somebody who had in the past been affiliated with the Nazis during the Second World War.  So, this is questionable and we have dealt with it in the past. I am not surprised that sometimes PM Trudeau comes out with outrageous and substantiated allegations."
"I am not surprised that sometime PM Trudeau comes out with outrageous and substantiated allegations," he added He also advised the Canadian PM not to interfere in the internal matters of a sovereign country.
Relations between India and Canada reached a new low after Justin Trudeau claimed on September 18 that India was complicit in the killing of Khalistan Tiger Force leader Hardeep Singh Nijjar in Canada. On June 18, Nijjar, an Indian terrorist, was assassinated outside a gurdwara in Surrey, Canada. India had rejected the allegations as "absurd and motivated".
Last Updated Sep 26, 2023, 9:48 AM IST