'Gaza will never return to what it was...' Israel gives its troops free hand to deal with Hamas
In the Israel-Hamas conflict, Israeli Defense Minister Yoav Gallant has removed all restrictions on the IDF, instructing them to escalate their efforts against Hamas.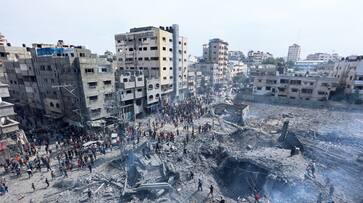 Israeli Defence Minister Yoav Gallant has declared the removal of all restraints on the Israel Defense Forces (IDF) in their battle against Hamas. In a meeting with Israeli forces along the border with the Gaza Strip, Gallant emphasized the need to eliminate those responsible for heinous acts, such as beheading children, burning women, and targeting Holocaust survivors.
Gallant expressed his determination to drastically change the situation in Gaza, warning that Hamas would regret their actions. He referred to Hamas as the 'ISIS of Gaza'. "Hamas wanted a change in Gaza, it will change 180 degrees from what he thought. They will regret this moment. Gaza will never return to what it was," Gallant said.
During his visit to the IDF's Gaza division headquarters at the Re'im military base, he addressed Shaldag fighters, paratroopers, and soldiers at kibbutz Be'eri, one of the initial targets of Hamas attacks over the weekend. Gallant assured that the kibbutz would be secured to the last meter, preventing a recurrence of the events in Gaza.
The primary response from Israel has been airstrikes in Gaza, resulting in significant destruction, displacement of thousands, and a surge of injured Palestinians in overwhelmed hospitals. Following Gallant's address, Rear Admiral Daniel Hagari, the top spokesperson for the IDF, emphasized the priority of eliminating senior Hamas members and the directive for troops to find and destroy terrorists.
Hagari reported that the search for Hamas terrorists continued in southern Israel, and the forces successfully prevented infiltration attempts. He revealed the discovery of the bodies of 103 terrorists in Kibbutz Be'eri, with over 100 Israelis killed by Hamas gunmen.
As part of the ongoing counter-offensive, Israeli Air Force fighters targeted more than 200 locations in the Al-Furqan neighbourhood, a known launch site for Hamas attacks. The IDF highlighted the area's significance as a Hamas "terror nest."
Furthermore, the IDF confirmed the arrival of the first US armaments plane at the Nevatim Airbase in southern Israel, underlining the importance of military cooperation for regional security.
The Israeli security forces also reportedly bombed the residence of Mohammed Deif's father, believed to be the mastermind behind the Hamas terror attacks. As the conflict entered its fifth day, the IDF reported a rising toll in Israel from rocket attacks and ambushes by Hamas, with over 1,200 casualties, 2,700 injuries, and 50 individuals confirmed as hostages or missing.
Last Updated Oct 11, 2023, 11:38 AM IST