Caught on camera: Dozens of students plunge into Lake Mendota in US as pier collapses - WATCH
A pier collapse during a university student gathering at a US lake on Labor Day resulted in dramatic scenes, injuries, and a subsequent investigation, as captured in viral footage.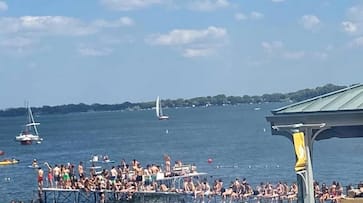 A startling incident unfolded near a US university campus as dozens of students plunged into a lake when a pier suddenly gave way beneath them on Labor Day afternoon. The dramatic footage capturing the incident quickly went viral on social media. According to ABC News, the pier had been supporting a group of 60-80 students when it collapsed, resulting in 25 reported injuries. The footage vividly portrays the pier collapsing at one spot, triggering a domino effect as others followed suit.
In response to the pier collapse, the Madison Fire Department dispatched a team to Lake Mendota to address the situation. They conducted an underwater search near the site of the collapse and fortunately confirmed that no one was trapped or had drowned, as reported by ABC News.
Eyewitnesses present at the scene expressed shock and disbelief at the sudden turn of events. Gabrielle Willbrandt, one of the students standing on the pier when it gave way, recalled, "I turned to this one girl, and we were like, 'Oh my God. Did that really just happen?'" Another student, Nicole Mitchell, recounted how she and her friend heard a loud noise, and then the entire dock began collapsing. Students had to swim back to shore while trying to protect their phones from the water.
Interestingly, the pier was slated for removal for the season the following day, as reported by the New York Post. An investigation has been launched to determine the cause of the pier's collapse, shedding light on the circumstances that led to this unexpected incident.
Last Updated Sep 5, 2023, 9:51 PM IST