Exclusive: 'I stalled my government's downfall for 5 years'
A week after the collapse of his government, former Puducherry chief minister Velu Narayanasamy opens up to Asianet Newsable's Yacoob.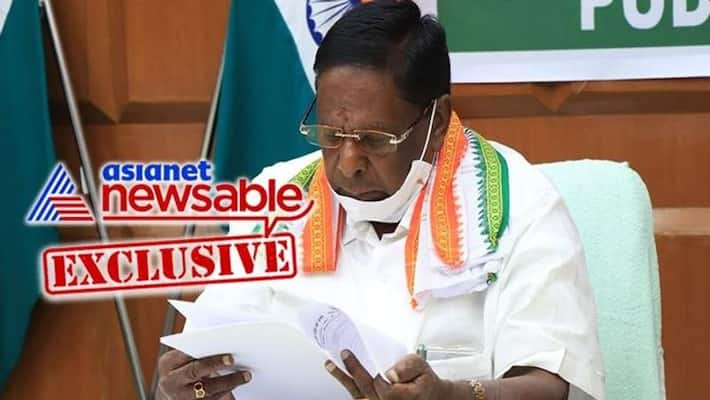 A week after the collapse of his government, former Puducherry chief minister Velu Narayanasamy opens up to Asianet Newsable's Yacoob. In a free-wheeling interview, Narayanasamy reveals how the plot to bring down his government started in 2016, and how BJP and Centre arm-twisted MLAs to reduce the Congress to a minority.
What triggered the resignation spree in Congress?
I have already completed the five-year term; hardly ten days were left (for the term to end). When Narendra Modiji was coming to Puducherry for an election campaign, before that they (disgruntled MLAs) planned the coup. Already a minister (Arumugam Namassivayam) was in touch with them earlier. He was isolating himself from party activities. Thereafter, another MLA close to him was also roped in (defected to BJP) using Enforcement Directorate and Income Tax as they have real estate business. The other MLA who was assured that an I-T case against him will be closed is John Kumar. Another MLA from DMK resigned because he too is into real estate. They (BJP) used money power and the Centre to topple the government.
The Congress MLAs who resigned claimed that they were sidelined by you and the party. Your views?
No no, it is not like that. If they had been sidelined, why did they not go a year back? Why at the fag end of completing a five-year term? This is a ploy. They are giving some explanation to go out, but people of Puducherry understand the behaviour and attitude. People know.
Now that polls are a month away, how are you planning to reach out to the people?
We (Congress) are already in touch with the people. We did campaigns and led several agitations against the Narendra Modi government on various issues related to farmers, privatization of electricity, oil exploration and imposing of 'Hindi' on Tamil people. 
We also protested against the total neglect of Tamil culture, the blocking of funds that the Centre owes to Puducherry and the blocking of various schemes due to the day-to-day interference of Dr Kiran Bedi (former Lt Governor). 
People are aware of issues that have been created by BJP to stall out the government's development.
How confident are you of Congress and its allies coming back to power in Puducherry? 
As far as Tamil Nadu are concerned, I am confident that DMK president Stalin (MK Stalin) will become the chief minister in this election. In Puducherry, a Congress-led alliance will come to power.
An Independent MLA Dr Ramachandran had alleged that money was offered to topple your government, and Congress was also aware of it. What do you have to say about this? 
We did not know that money was being offered. We came to know a little late. Four people (MLAs) who are associated with the real estate business, were cornered, threatened and lured with money by the BJP.
Vanniyar Community, which comprises nearly 30 per cent of the votes, is swaying towards the BJP. Will that not dampen your chances? 
That's the wrong notion. The Vanniyar community is divided. The person who went to meet Namassivayam is not a Vanniyar leader. N Rangasamy (former Chief Minister) has some influence. Some Congress stalwarts are from the Vanniyar community. Several ministers and MLAs belong to the Vanniyar community. Vanniyars are not the monopoly of any political party.
Many Congress leaders and your confidente John Kumar had met BJP leader Nirmal Surana two months before their resignation. Why did Congress not talk to him then and try to sort the differences?
He (John Kumar) came and told me. Out of 30 members, Congress had 14 MLAs plus two DMK MLAs and had the support of independent MLA. With the support of the alliance, we were running the government. Therefore, I had to carefully stall the moment (toppling). The topping bid started in 2016 itself after our government came into power. I was able to stall it with the help of Congress and alliance party leaders. Therefore, we were able to complete our five-year term. Otherwise, our government would have gone two-three years back.
There was a lot of criticism with regard to the video doing the rounds where you mistranslated what a fisherwoman said during a live interaction with Rahul Gandhi. What do you say about that?
Have you seen the other video that came? The lady (fisherwomen) herself told that she was talking about Tsunami, not the Burevi cyclone. At that time, the NR Congress was ruling the state. 
Within three hours of the cyclone, I was there on the spot, the local MLA was also there on the spot and that video was also played. Only one video of that lady telling and my translation. 
I was standing a little far away. I could not hear and heard only the Burevi cyclone and said I had come to that place and I did not mistranslate. The BJP is capable of giving a lot of lies. It is one of the ploys created by them and I also countered that in the assembly with another video footage in which the local MLA was also there and the lady said she told that by mistake and agreed that CM had come during Cyclone.
Ghulam Nabi Azad and some other leaders have been critical of the manner in which the Congress party operates. They have often called for democracy within the party and a non-Gandhi alternative at the Congress president's post. What is your take on the matter?
They want an election. It is not that they are criticizing the Gandhi family. They are also loyal to the Gandhi family and we are also loyal to the Gandhi family. We are all loyal Congress workers. It is not a criticism (calling for democracy within the party). It is only a media creation. They (G-23 group of senior Congress dissenting) want only an organizational election that all. 
As far as I am concerned, I am a loyal Congress worker. Whatever Congress President Madam Sonia Gandhi decides and Rahul Gandhi decides, I will do it.
Where is the alternative? You tell me, who is there? Except for the Gandhi family, nobody can lead the Congress party. They have millions of workers and followers.
Do you think there is a sustained campaign to project Rahul Gandhi in a bad light? How is Congress countering this?
This is a systematic campaign by BJP. BJP is trying to do it because they know Rahul Gandhi is an emerging leader and is going to be the future prime minister of India and therefore they want to tarnish his image. We have to handle this false propaganda effectively. We are countering at the state level. Every day we are countering BJP's false propaganda.
Last Updated Mar 1, 2021, 5:17 PM IST