Congress plans nationwide Bharat Jodo Yatra on September 7th anniversary
The Congress party, under the leadership of Rahul Gandhi, is gearing up to celebrate the first anniversary of the Bharat Jodo Yatra on September 7, 2023. This nationwide event aims to unite the diverse districts of the country in a symbolic gesture of unity.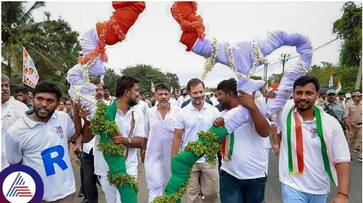 The Bharat Jodo Yatra, initiated by Rahul Gandhi on September 7th, 2022, commenced its journey from Kanyakumari and traversed through 12 states, culminating in Kashmir on January 30th, 2023. 
This year, Congress intends to mark the occasion with an even more extensive celebration, planning yatras in all districts from 5 pm to 6 pm. The second edition of the Bharat Jodo Yatra is in the pipeline, set to begin in Gujarat and traverse through the North Eastern states, including Meghalaya, Manipur, and Assam.
'Irresponsible fiscal policies will harm..' PM Modi urges states to prioritize fiscal discipline over freebies
Amidst these preparations, Rahul Gandhi's diplomatic commitments take him to Europe in the first week of September. While in Europe, Rahul Gandhi will engage with representatives of the European Union in Brussels on September 7, deliver a lecture to students at the University of Paris on September 8, and participate in a meeting with the 'Labour Union of France' in Paris on September 9. Additionally, he is scheduled to attend a function in Oslo on September 10, where he will address the Indian diaspora.
Last Updated Sep 5, 2023, 7:47 PM IST