Will Djokovic's father be banned from Australian Open 2023 final after Russian flag row? Craig Tiley responds
Srdjan Djokovic was filmed with a man wearing a 'Z' T-shirt, denoting support for Russian armed forces, and behind a flag sporting the face of Russian President Vladimir Putin.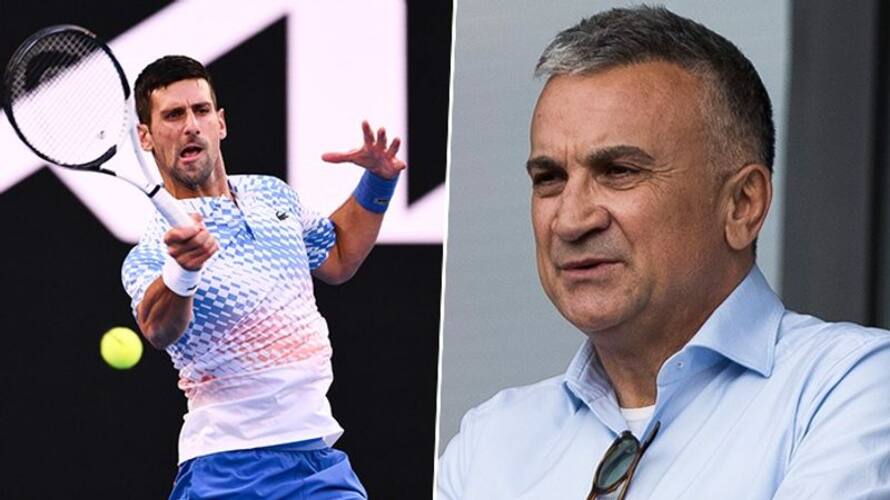 After his contentious Wednesday encounter with Vladimir Putin supporters, a decision will be made at the last minute over whether to permit Novak Djokovic's father to attend the Australian Open 2023 final on Sunday.
Srdjan Djokovic was captured on camera with a man standing behind a flag with the image of Russian President Vladimir Putin and wearing a "Z" T-shirt, signifying support for the Russian armed services.
Although he insisted that he was only trying to express his gratitude to Novak Djokovic's supporters, the incident has caused a stir. The Ukrainian Ambassador, Vasyl Myroshnychenko, has called on Tennis Australia to forbid Djokovic's father from attending the championship.
According to Tennis Australia CEO and event director Craig Tiley, officials will decide at the last minute whether to permit Djokovic's father to watch his son play Stefanos Tsitsipas on Sunday from the stands at Rod Laver Arena.
"I couldn't give you a definitive answer now," Tiley said.
"We're in a different situation, and [on Sunday] night, whether or not that has an impact on it or not […] I think the decision not to be there on Friday night was on the fact that there was a lot of intensity around that action," Tiley added.
"He was very clear that he had absolutely no intent for this to happen. And that there was no purposeful position to do it. The family were devastated that it came across that way, and particularly Novak because he as focused on winning. One thing I know about Novak is that sometimes the more distractions he has, sometimes the better he becomes. He's very good at singling in. But you can only take so much," Tiley stated.
Also read: Djokovic vs Tsitsipas: Who will be new World No.1? 9-time Australian Open champion gives classy response
Djokovic acknowledged the incident had affected him after dominating Tommy Paul 7-5 6-1 6-2 on Friday to go to his 10th Australian Open championship game. He argued that those showing support for Russia outside Rod Laver Arena had "misused" his father.
"It was unfortunate that the misinterpretation of what happened has escalated to such a high level," Djokovic said. 
"It has got to me, of course, as well. I was not aware of it until last night. Then I was not pleased to see that. My whole family and myself have been through several wars during the 1990s. As my father put in a statement, we are against the war. We know how devastating it is for people in any country going through war," he added.
Tiley backed the Serbian, insisting he was confident the nine-time Australian Open champion's father did not intend to make a political statement. 
"I know for a fact that there was no intent. I don't know exactly what was said […] we don't know what was said, exactly. But at the end of the day, I know he was very upset that it came across that way. I know Novak and have known Novak for a long time. He has been outspoken against war," he said.
Last Updated Jan 28, 2023, 5:49 PM IST